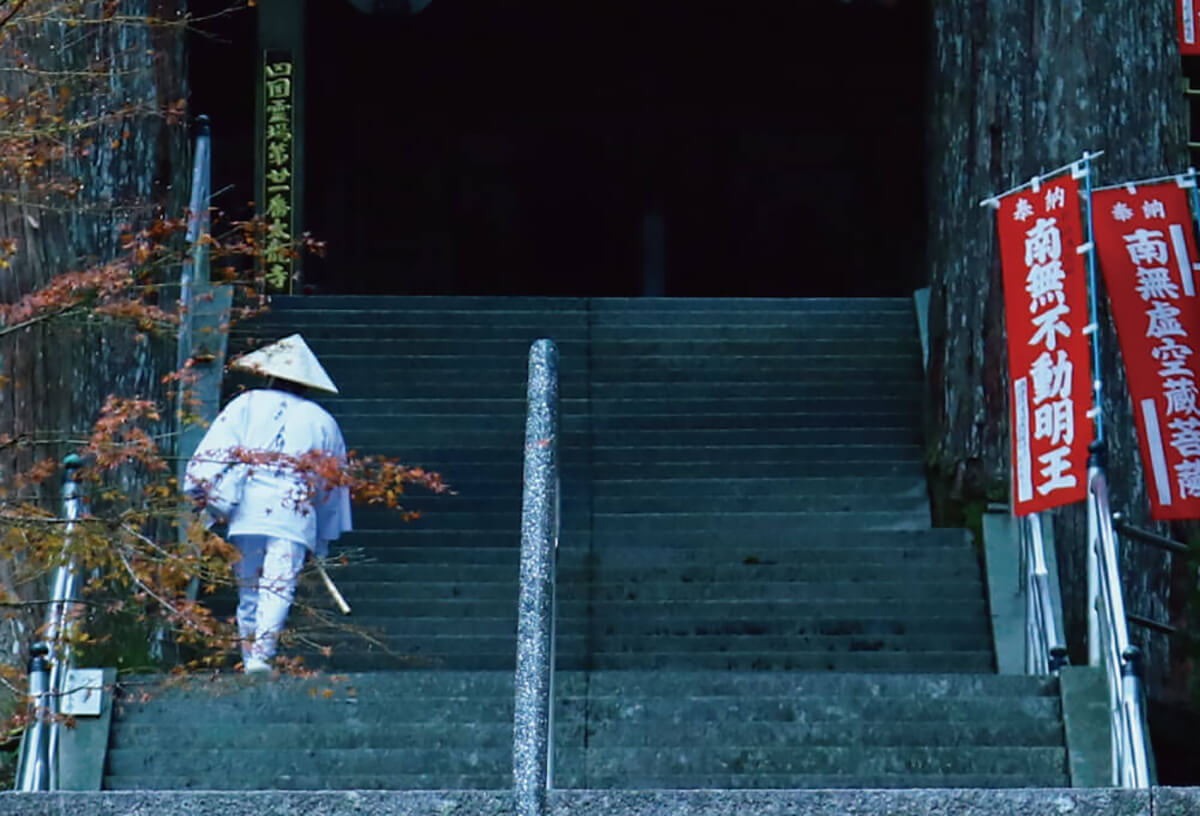 Pilgrimage
Basically, white clothes are used. (If you wish to simplify a little, you may wear a white coat and a collar on top of your clothes, and white shoes.)
Be sure to carry a bag and carry a cane, a rosary and a book of temple stamps (Nokyouchou).
If you are visiting with clothes, you should wear the white robe with "Namu Daishi Henjō Kongō" and wear the coat bearing the master's name.
By wearing the pilgrim's vestment, the feelings and attitudes of visiting are quite different.

"Ajirogasa" / "Sugegasa"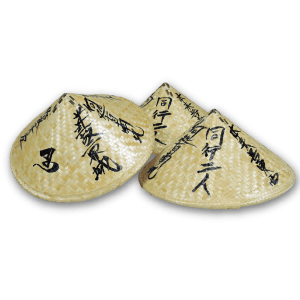 It protects the head from sunlight and wind and rain. On the sedge hat are the phrases, "Mayouga-Yueni Sankaiha-Shiro" (Because you are imprisoned by desires, you cannot escape from the three realms), "Satoruga-Yueni Juppouha-Kuu" (When you arrive at your enlightenment you will see a world that is free and peaceful.), "Honrai Touzai-Nashi" (In the original world there was no such thing as East or West. These things were decided by men.), "Izukonika Nanboku-Aran" (Because there is no such thing as South or North, abandon your worry and live free", and "Dougyou Ninin" (Two are walking together), and a Sanskrit character that represents O-Daishi-sama are written. Generally, we keep the Sanskrit character at the front. There are also accessories to cover the sedge hat and also a chin strap.
"Sode-nashi" (sleeveless) white pilgrim coat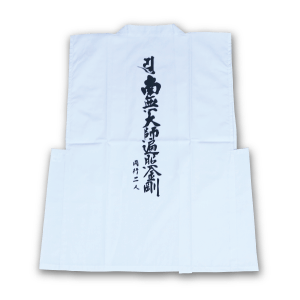 It is mainly used for summer, but can be worn over winter jackets.
"Hakue" / "Oizuru"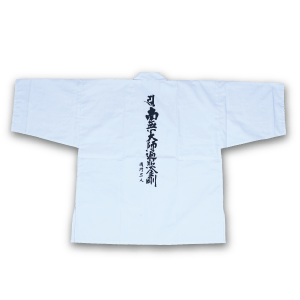 For those who receive a red seal on a white robe, prepare two pieces of clothing: a roadside robe (the one you wear) and a robe (the one you receive the red seal). When traveling to the Pure Land, it is also a pass to the Pure Land to guide the master. Please bring them one by one.
御詠歌(ごえいか)入り白衣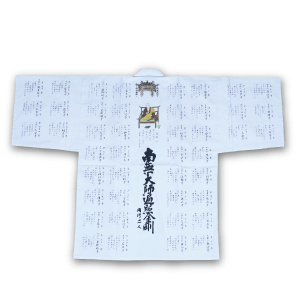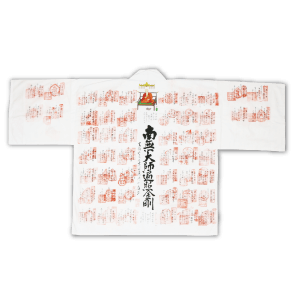 The number, temple name, and song of each temple are pre-printed to make it easier to stamp red marks on common white robes.
It is mainly used for red stamps, but you can wear it without any problems.
Kongo walking stick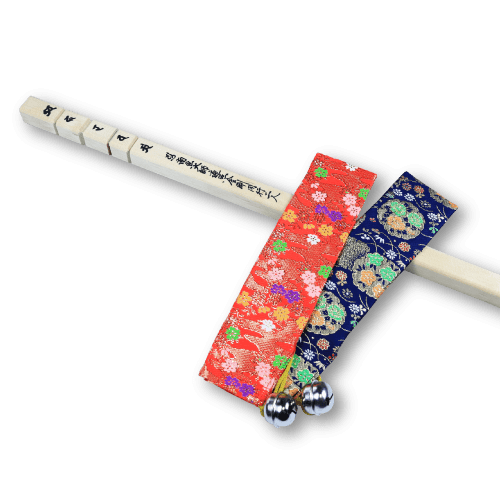 Since ancient times, the Kongo staff has been thought of as a symbol of the master (the Daishi himself) that has helped him walk along the way. It will be a spiritual support along the way. Also, there is a custom that one does not use a cane on the bridge.
There is a cane holder in each fudasho, so let's put our canes in the place so as not to bother other worshipers.
Kesa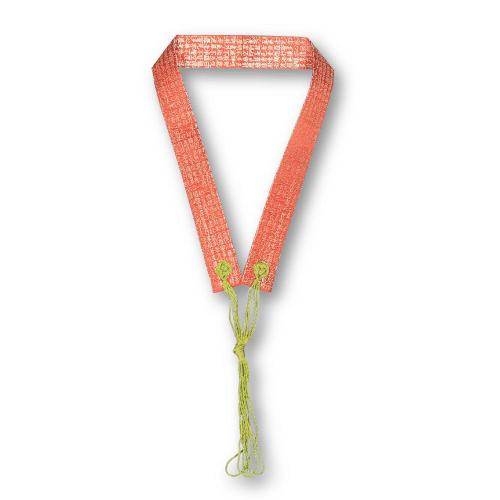 When you visit the Buddha, you should wear a "kesa" with a robe. (The photo is a "kesa")
It is common for you to wear a monk's stole.There are many types of "kesa", so it would be advisable to get guidance from a sacred place
Wagesa-tome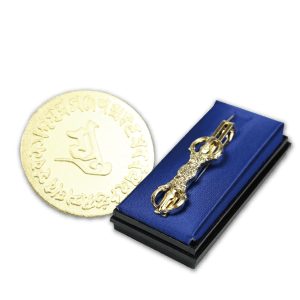 Ring-shaped closure A metal fitting that easily secures the collar to the white coat.
The left side of the photo is fastened at the front and the right side is fastened at the collar.
Nenju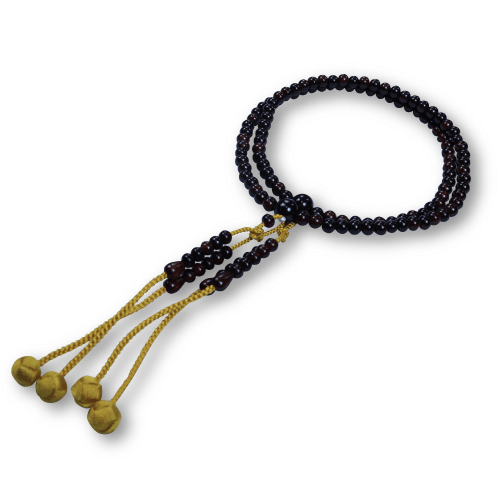 Also called rosary. As with the robe, be sure to bring it when visiting the Buddha.
There are many types of rosary, so it is preferable to receive guidance from the sacred ground
Nenjubukuro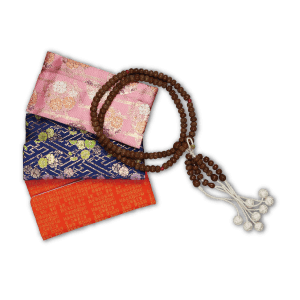 A bag that holds rosary beads when you carry them, and also serves as a protection. If you put them in, they won't get tangled in the bag and it won't be damaged.
Kyouhon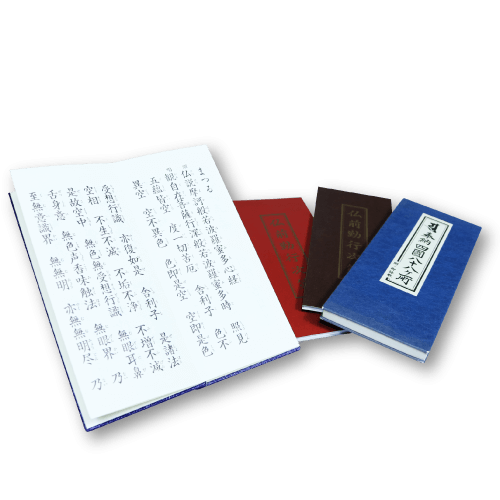 To do a pilgrimage is to dedicate the sutra to the principle deity and master of each temple.
Don't forget to bring your sutra book.Rei, tin
Zutabukuro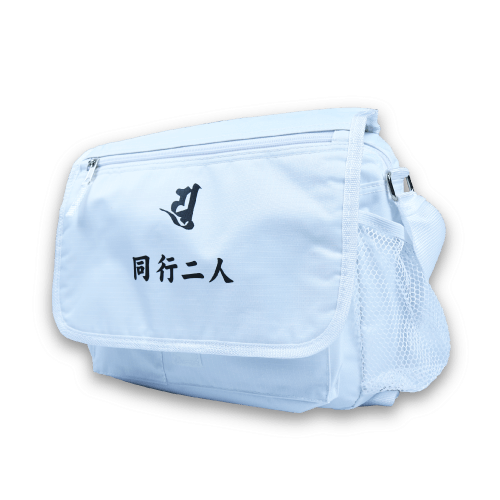 A bag used during your pilgrimage. Also called a Sanya bag. You can put things you need to visit, such as a temple stamp book and a sutra book.
"Jirei" Bell "Rei"- "Suzu"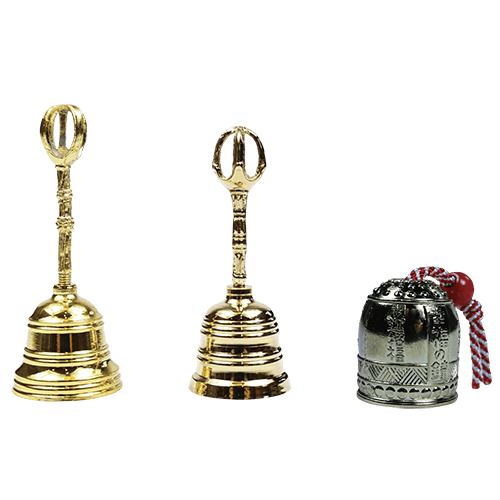 Attach it to a bag or cane during the pilgrimage. The tone plays the role of a demon. In particular, the pilgrimage of the walking pilgrimage has the role of identifying you of your existence on mountain trails. Today, the sound of the bell is synonymous with pilgrimage.
Name Slips (Osamefuda)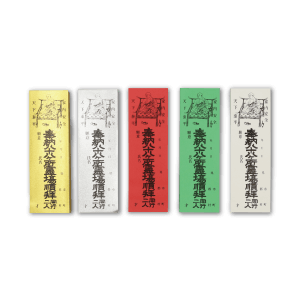 When you visit each sacred place, the color changes depending on how many times you visit the Shikoku sacred sites. Colors are 1 to 4 rounds: white, 5 to 6 rounds: green, 7 to 24 rounds: red, 25 to 49 rounds: silver, and 50 to 99 rounds: gold. Since it comes in a bundle, it is a good idea to fill in your address, name, and wish in advance, and enter the date when you visit. There is also a custom from ancient times that one gives one as a thank-you when pilgrims receive favours on the way. * Please note that it is not good manners to pick up your slips from or look into the "Osamefuda" box.
Brocaded "Osamefuda"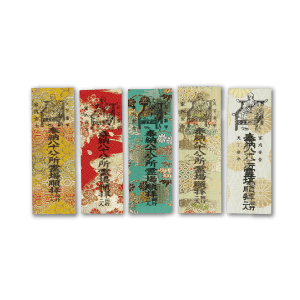 An "osamefuda" used by a pilgrim who has traveled through the Shikoku sacred sites for more than 100 times around, and the usage is the same as the other "osamefuda". However, these Brocaded "Osamefuda" bills are not on the market and many are custom-made. In particular, when you receive a Brocaded "Osamefuda" bill, it is said that you can have the same merit as visiting the Shikoku area, and it has been useful since ancient times. * Please note that it is not good manners to pick up your slips and look into the "Osamefuda" box.
Wallet (Osamefudire)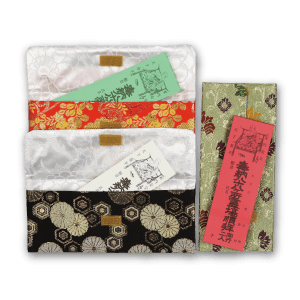 This is a bag for putting bills. If you put it, it will not fall apart in your bag.
It can also be used as an image of the Buddha.
"Omie", "Osugata", black and white, colored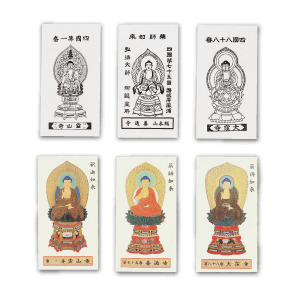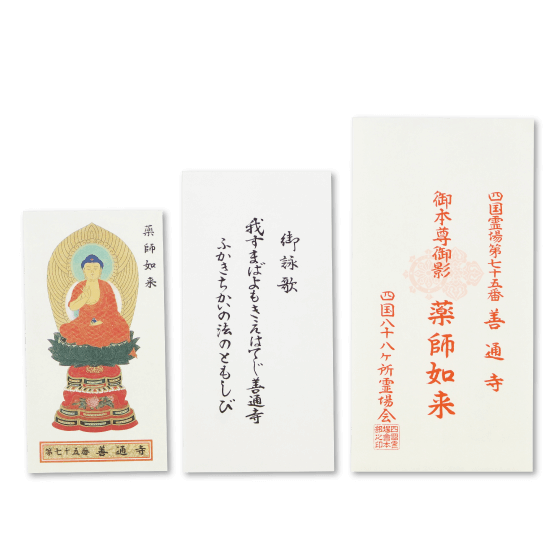 The black-and-white image is a slip on which the main principle of each temple that can be paid on the payment book and the payment axis are drawn. A colored image is given separately at each temple for 200 yen. If you only want a black and white image, you can receive it for 100 yen. Once collected, they can be stored in a special container or decorated within a frame. If you go around many times, they may be handed over to people around you or placed in a coffiin at a funeral. The image of the Daishi-sama is placed at the center of the display and is given by the sacred hall.
Mikage (image) book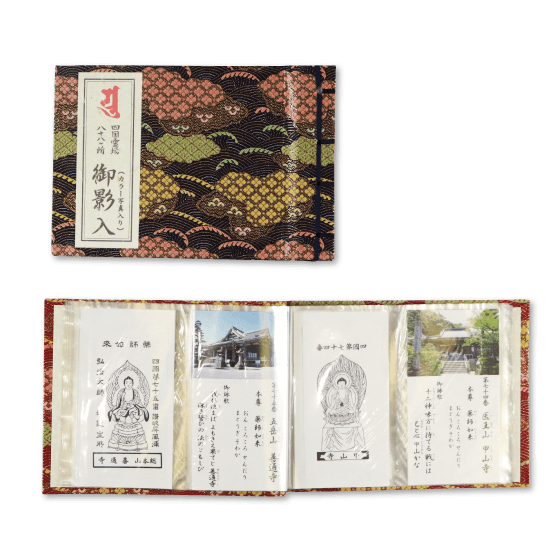 This is a dedicated container for storing the black and white images (forms) awarded upon receipt of the payment and the colored images (forms) you have requested.
If you put them in these containers, they will not easily dissipate and will not easily get dirty.
* When you receive an image, please do not put it in a container on the spot, but put it in a place that does not interfere with other worshipers in line.
Portable wooden fish, sound tree (Keitaimokugyo, Ongi)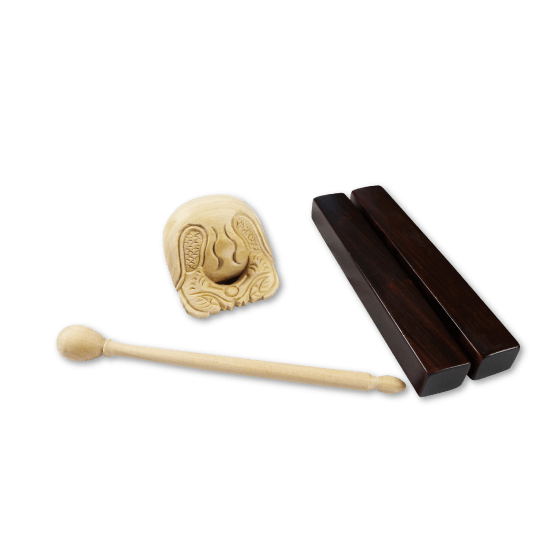 It is intended to keep tone and rhythm for reading, and when multiple people visit, the sutras to be chanted will be aligned and sound beautiful.
Journey candles, incense sticks, etc.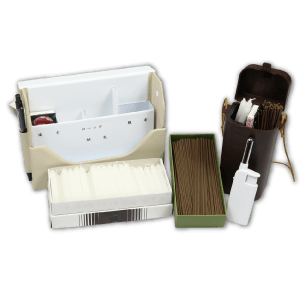 Incense sticks and candles to be offered to Buddha and Daishi during the pilgrimage. Also, if you put it in a container as shown in the picture when you visit, you can quickly take it out when you need them.
When offering an incense stick, it is not preferable to not put used matches in Koro. Koro is a place for Buddha and Daishi.
Account book "Noukyouchou"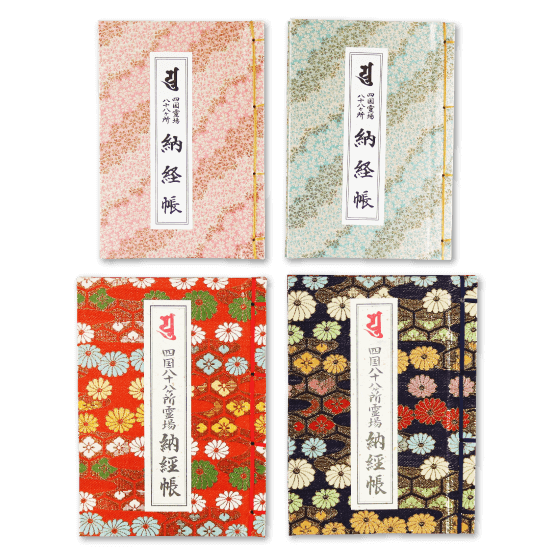 The "Noukyouchou" book is a proof of chanting (the sutra) at the main temple and the Daishido temple in each sacred place. It is not a stamp book, so please receive it with your heart. Also, it will be a talisman for your whole life.。
Stamp book (one circuit, double stamp)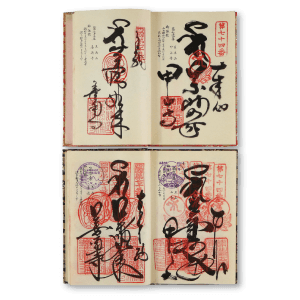 In the Shikoku pilgrimage, not only once, but also the "red seal", and every time you visit, only the second and third times, only the treasure stamp, will be in the same notebook as shown below. You use the same "Noukyouchou" each time.
"Reijoukai Youshi"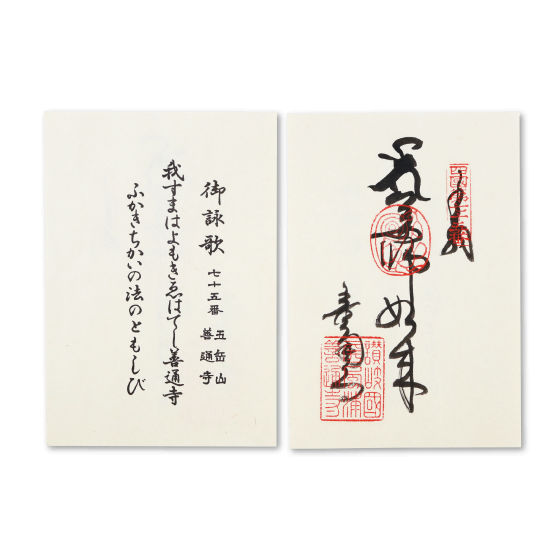 Account book (one lap, multiple stamps)
Each sacred place wrote in advance on a special form issued by the sacred society. (Reijoukai). If you do not have an account book (Noukyochou), you can also use this form for payment.
Once you have collected all, you have a complete format so you can make a beautiful book.
* Bookbinding is not always necessary.
"Kyoubukuro"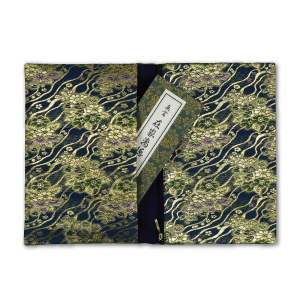 It is a bag for storing sutras and rosary, and also serves as protection. If you put things in, they won't get tangled in the bag and it won't be damaged.
Scrolls "Noukyoujiku"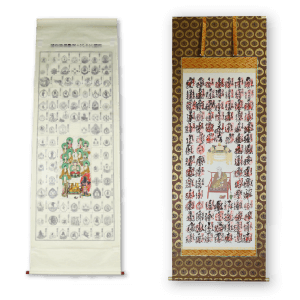 It is a scroll that accounts for visits to the main hall and Daishido of each temple and receives a treasure stamp that can be awarded at the temple office. In the case of the shaft, it will be fine if you finish all the visits and finish the surface (shaft / frame). Please tell us carefully as many keep them as heirlooms of the last generation for descendants.