Temple 54
【Pilgrim's Song】
If at the edge of a cloudless mirror
I wonder if it will cast shadows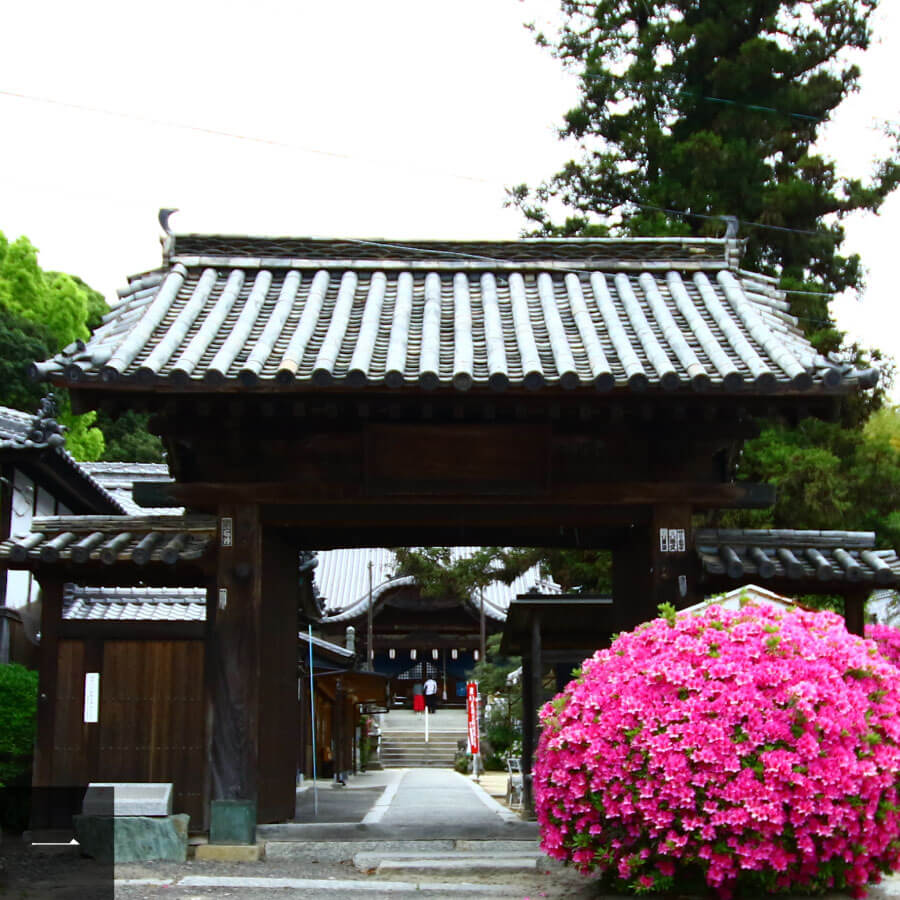 Originally one of the gates of Imabari Castle, it is made entirely of zelkova. Handed over when Imabari Castle was demolished in the early Meiji era. * Image 1
Guardian from fire Fudo Myō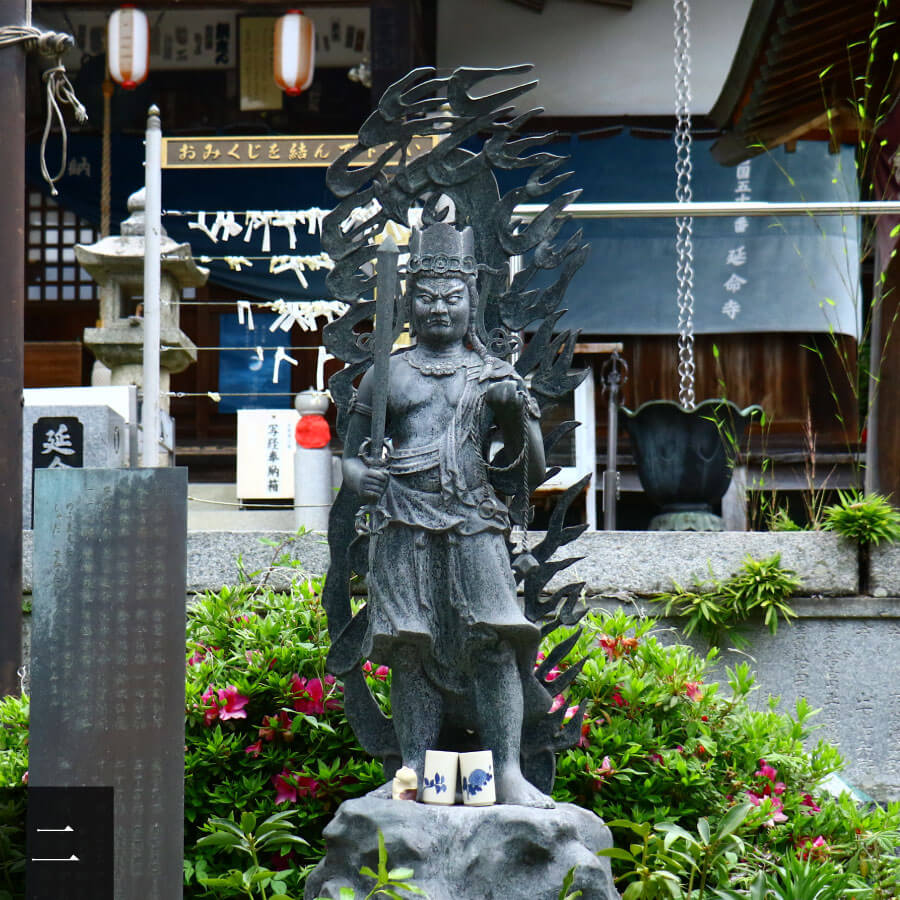 Honzon. This is a rare statue of Fudo Myō, wearing a crown, and has escaped from repeated fires. * Image 2
History and origin of Enmeiji
There is a mountain with an altitude of 244m, which is the mountain of Enmeiji, which is also the name of Enmeiji Temple, about 6km northwest of Imabari city. It is said that Enmei-ji was the one that had 100 temples in the valleys, with a seven temple structure on the mountaintop.
According to Engi, in the fourth year of the Yōrō era, following the imperial request of Emperor Shoumu (reigned 724 to 749), Gyoki Bodhisattva carved a statue of King Fudo Myo, who was the incarnation of Dainichi Nyorai, and built it as a main temple. During the Kōnin era (810-24), Kobo Daishi received the edict of Emperor Saga (reigned 809-823), revived the temple as a central dojo for religion and learning, and named it "Fudoin-Enmyoji". And the name of this "Enmyoji Temple" continued until the Meiji Restoration, but there were many mistakes with the same temple name, 53rd Enmyoji Temple (Matsuyama City), and so it has been changed to "Enmeiji Temple" which has been popularly called since the Edo period.
Afterwards, the temple suffered repeated fires and the temple burned down. However, it was revived again and moved to the foot of Enmeiji in his current location with the temple that escaped difficulties in 1727. During this period, in 1268, during the Kamakura period (1268), a scholar of the Kegon sect (1240-1321) was nestled in the temple's Nishiya monk's quarters, and wrote the "Hasshū-kōyō", an introductory book for beginners of Buddhism. "Hasshuu" refers to the newly-built sect and the newly established Jodo sect of Kusha-shū, Satyasiddhi, Ritsu, Hosso, Sanron, Tendai, and Kegon. The Kegon sect and the newly-developed Jodo sect, which are written in two volumes.
The temple also has the second oldest signpost in Shikoku, with a Japanese andromeda (Pieris japonica) tree on the grounds and pretty white flowers bloom for about a month from the spring equinox.
Highlights of Enmeiji
Tomb of Sanmon, Hibuke Fudoson, Son of Ochi Son (Ogata Sonoya saved the farmers' poverty and is said to have not been killed by the great famine of the Kyoho Year)
Annual events at Enmeiji
First immobility

Date: January 28

Setsubun festival

Date: February 3

Flower Festival

Date: April 8

Ochi Sonbei, memorial festival

Date: August 7

The demon demon

Date: August 23

Unpaid

Date: December 28

Nightlight bell

Date: December 31
Tenple 54 Fudasho: Chikamizan Houshouin Enmeiji
Denomination

Shingon Buddhist Toyoyama School

Honzon

Fudo Myoo

Pioneer

Gyoki

Founding

Yōrō 4th year (720)

Mantra

Nōmaku sanmanda basaradan senda makaroshyada sowataya untarata kanman
Access
Location

Agata, 636, Imabari, Ehime, 794-0081

Tel

Parking

Yes * There is a surcharge

Shukubo


(TempleLodging)

None

Website
After leaving Enmyoji, head northeast on Route 196 running along the sea. After passing JR Onishi Station, after a while, it branches to a narrow road leading to prefectural road 38. Enter Route 38 and drive 1.4km. There is a sign at the entrance of Enmeiji along the road. Turn left, and after about 300m you will reach Enmei-ji Temple.
⇒ Google map