Temple 30
【Pilgrim's Song】
Ichinomiya where many people gather
I wonder if it will flourish in the past and now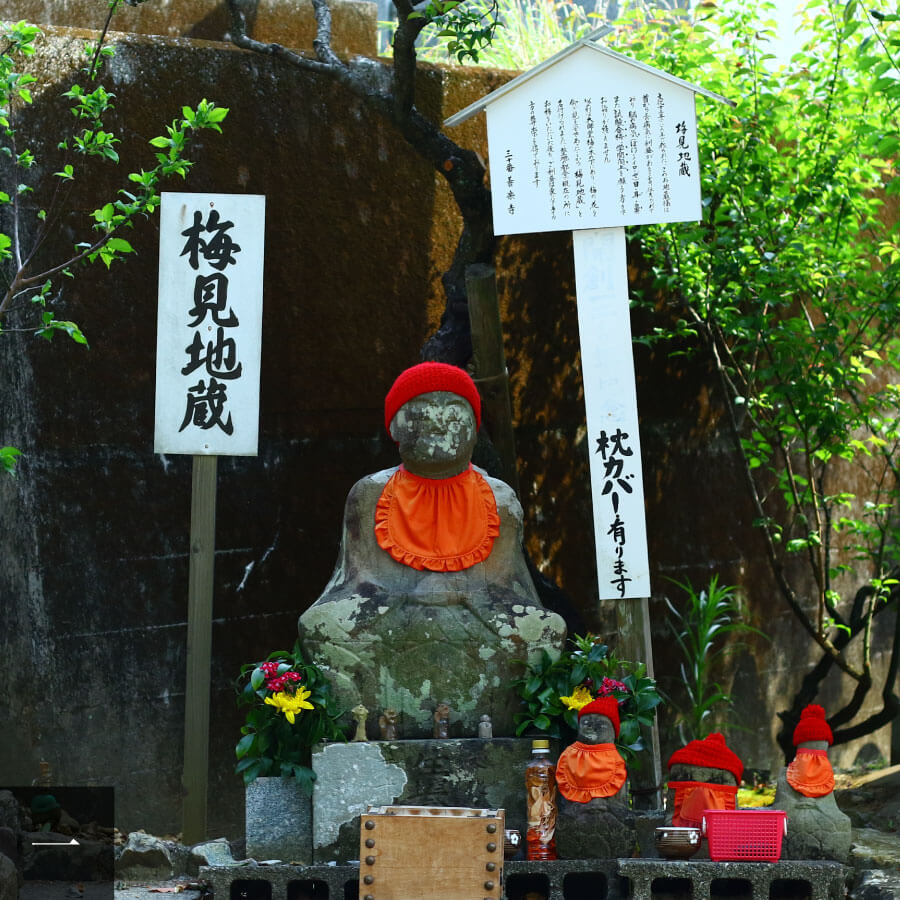 Left of Ajizodo. Established in 1816, 13th year of the Bunka era. A rare Jizo who is said to grant relief from sickness and troubles from the neck. In recent years, many participants have been praying for success in brain disease and to receive neurological healing. * Image 1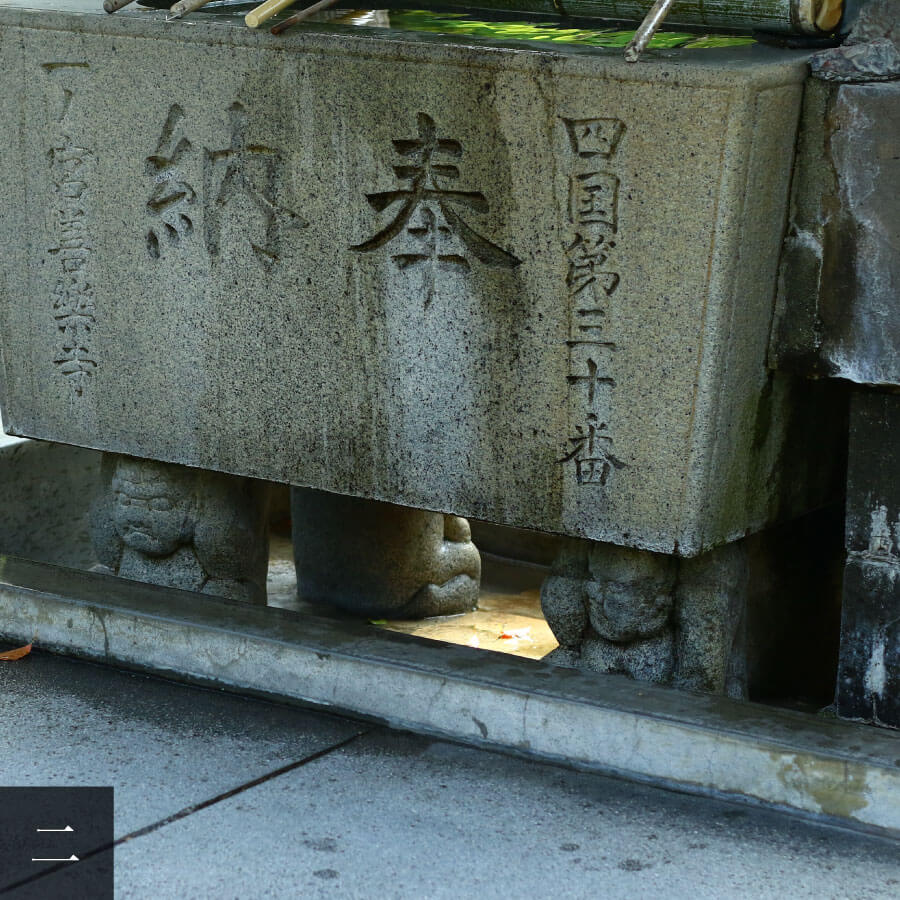 An evil spirit who supports stone water purification cistern in the temple grounds. Amanojaku is the original form of the face of the demon attached to the Bishamon deity.
The history and origin of Zenrakuji
This area, about 6 km to Kochi Castle and about 4 km to JR Kochi Station, was once called "Kamibe-go" and is the oldest prosperous region in Tosa. According to Engi, Kobo Daishi visited this area in the same year after the Emperor Kanmu reigned (781 to 806). Founded and designated as a sacred place and established Zenrakuji as a luxurious temple for Takagamo Daimyo-jin, the total guardian of Tosa Kuni Ichinomiya. It was founded and set as a sacred place.
Since then, the temple has been dedicated to the protection of the beacons as a temple of Buddhism and has prospered by enlightening the faith of the Buddha. In particular, during the time of Tadayoshi Yamauchi, the second lord of Tosa, the temple prospered and grew with the protection of military patronage. However, following the difficulties of the abolition of the Buddha by the new Meiji government, the temple fortunes changed completely and hard days continued until it was reconstructed in 1964. After a period of confusion, such as the fact that two temples were able to call themselves, "Zenrakuji" it is now established as the 30th sacred place as of January 1, 1994.
The Daishido on the left of the main hall was built during the Taisho era. The statue of the Daishi here is known as the "Taikyo Daishi", and it is said that if you are visited by a troubled year or pray for traffic safety, etc., you will have a spiritual experience. In addition, there is "Koyasu Jizo-do" in the temple grounds, and it is enshrined with Jizoson, a gentle face called Kobo Daishi. There is a legend that the priest prayed and gave relief to pregnant women who suffered from difficult birth, and it is said that there are benefits to the safe delivery and childbirth prayers. In addition, there are many people who participate in prayers for lost unborn children.
There is an open atmosphere in the residence. It is an ancient temple that flourished as a branch temple of Tosa Ichinomiya.
The highlights of Zenrakuji
Plum Viewing Jizo, Amanojaku, Main Hall (Renovated in 1983)
Annual events at Zenrakuji
Zenrakuji First Festival

Date: February 1

Setsubun amulet

Date: February 3

Flower Festival

Date: April 8 (Amacha entertainment by the women's department)
Temple 30 Fudasho: Dodosan Toumyouin Zenrakuji
Denomination

Shingon Buddhist Toyoyama School

Honzon

Amida Nyorai

Pioneer

Kobo Daishi

Founding

HDaidō era (806-810)

Mantra

On amirita teisei kara un
Access
Location

Shinane 2-23-11, Ichinomiya, Kochi, Kochi 781-8131

Tel

Parking

20 normal, 4 large (free)

Shukubo


(TempleLodging)

None

Website
From Kochi Interchange, head toward Kochi North Loop Line toward Kochi City and turn left on Prefectural Road 384. After about 2km, turn left at the bus stop in front of Ichinomiya Shrine and it will be on your right.
⇒ Google map