Temple 6
【Pilgrim's Song】
The battle of knowledge in the world of Kari
Look for protection from the Land of Ease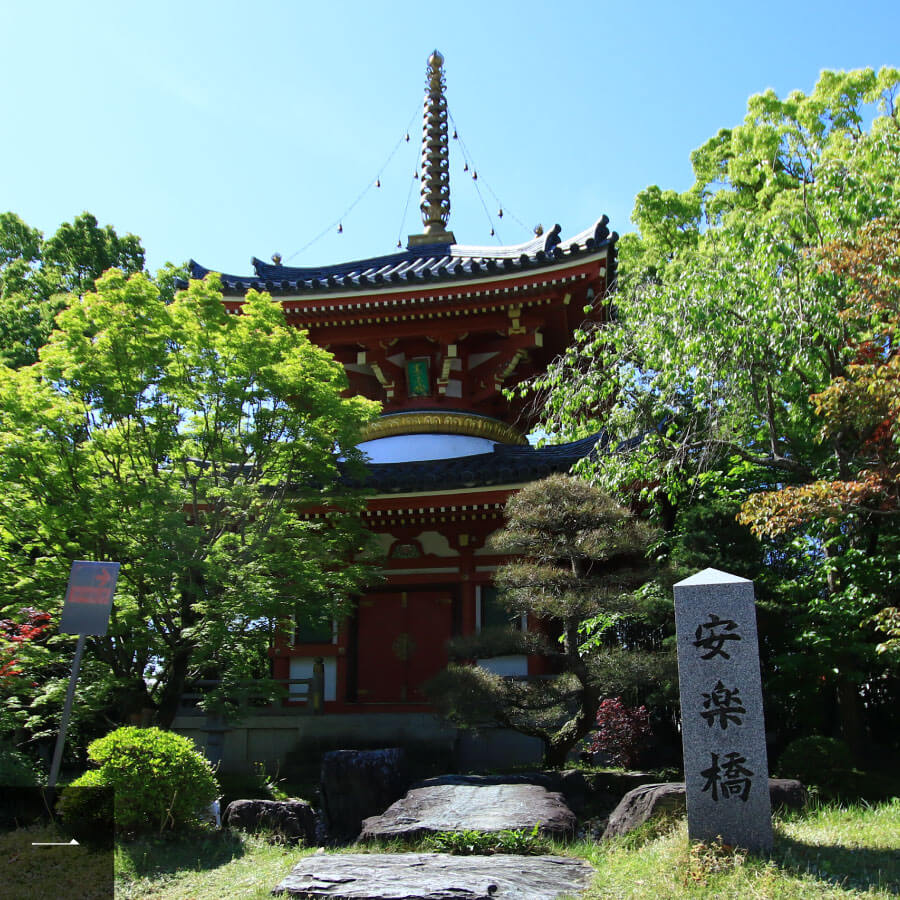 The interior holds expressions of the Pure Land with richly colored Buddhist paintings and sculptures. There are 88 places where you can walk around.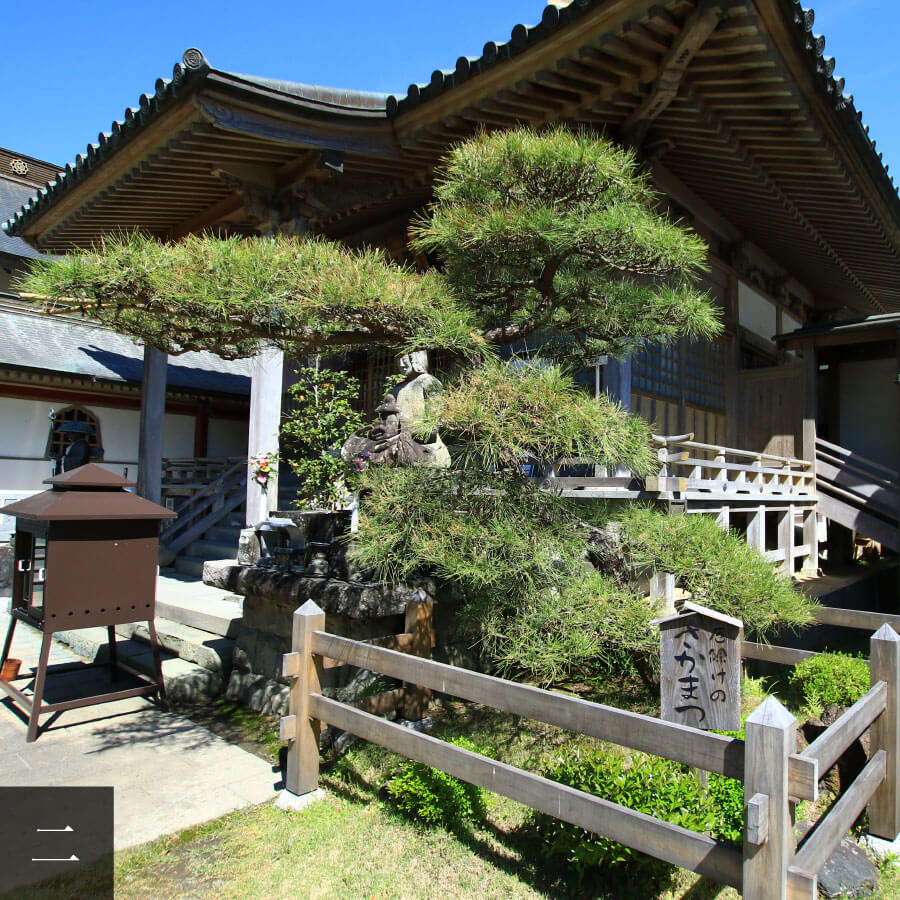 In the Daishido, there is a "Sakamatsu", an exorcism for planting by hand for Daishi, which is said to have protected him from a hunter's bow and arrow when Kobo Daishi was 42 years old (a year of calamity for men that age).
History and origin of Anrakuji
"Shikoku Sacred Site" (16th year of Genroku = 1689) says, "There is no time for everyone to look at the divinization of the medical king, to prosper in the temple, to touch the 12 gates, and to stop the bells from cracking." In the old days, temple areas were dotted from the foot of the Mt. Asan to the present location, and it has come to the present after the warring period of fire and the Meiji Restoration decree.
Here Hikino has had a hot spring for a long time, Anrakuji is an old site where the benefits of hot springs were handed down by Kobo Daishi, and the mountain number was considered a hot spring mountain. (The hot springs are still present in the front of the Daishido.)
In the Momoyama period, Awa Sogo and Hachisuka Iemasa made it a "Post Road Temple" and set up facilities for Shikoku Henro Pilgrimage, traveler accommodations, tea, and baths. The record "Post Road Temple Document" (Keicho 3rd year = 1598) still remains, and the Shukubo has a 400-year history. During the Hansei period, a snow cave with the family crest of the Hachisuka family was allowed on the mountain gate, and on the temple grounds it was forbidden to kill. The length of thatched roof was donated by Hachisuka 250 years ago, and is a simple but elegant wooden structure.
Mizutani Shizu (49 years old at the time) of Onishi City, Aichi Prefecture, was bedridden due to an intractable spinal disease. The chief priest of this temple recommended the Shikoku pilgrimage with the wife, to her husband, Shigeji who suffered in his sickbed,. They made a pilgrimage journey. However, miraculously, Shizu-san's intractable disease healed during the pilgrimage. The current image of the priest and Yakushi Nyorai is dedicated to the marvel, and an image of the ancient priest of about 43 centimeters is enshrined within. It is now around 1963. In Anrakuji Temple, sixty Buddha statues carved from this unknown period by the great Kyoto Buddhist master, Akiyoshi Matsumoto (starting from 1945), who have styles in keeping with Unkei (Buddhist sculptor) (1148-1224) and Kaikei (Kamakura era artist) and are enshrined in each temple. These include the statues of Kobo Daishi in the Daishido, Aizen Myou, and Fudo Myou. Also, the Garbhadhatu Mandala; Womb Realm Mandala, the Vajradhatu Mandala; Diamond Realm Mandala. On a stone wall are five holy writings. These are called the various writings of Kobou Daishi.
The highlights of Anrakuji
The statues the Nio gate, the Kyoto Great Buddha made by Akiyoshi Matsumoto. The main shrine in front of the main hall has a carved deity of Kobo Daishi. Two-story pagoda. Sakamatsu pine. 400 year old Shukubo. There is a natural hot spring public bath. called "Onsen Mountain", and it is popular with pilgrims.)
Annual events at Anrakuji
Attainment of Buddhahood Ceremony (Ritual for connecting with Buddha: ◎ Reservation required)

Date: 2nd Sunday of January (planned)

Teaching class (Study session to learn the teachings of Kobo Daishi and Buddhism: ◎ Reservation required)

Date: late January (5 days, 4 nights)

Great festival (bon festival dance hunter offering)

Date: August 20

Star Festival Goma Ceremony

Date: December 31-February 3
Temple 6 Fudasho Onsenzan Rurikouin Anrakuji
Denomination

Koyasan Shingon sect

Honzon

Yakushi Nyorai

Pioneer

Kobo Daishi

Founding

Hirohito 6th year (815)

Mantra

On korokoro sendari matōgi sowaka
Access
Location

8 Tonoshima, Kitano, Kamiita-cho, Itano-gun

Tel

Parking

Regular 80 cars, 10 large buses, free

Shukubo


(TempleLodging)

Yes (300 people, hot spring available)

Website

Socialmedia
By foot: Jizo-ji-Post office-Kamiyabashi-Tanigawa-Bashi-Kojiya station ruins-Matsushima Shrine-Takeshigebashi-Anrakuji 1 hour 10 minutes 4.7km
Public transportation: 5 minutes on foot south from Jizo-ji Temple 15 minutes on board for Tokushima Bus Blacksmith Hara from "Rakan" 7 minutes on foot to "Higashihara"
Car: Turn right at the Tonosei Interchange Exit, turn right at the next traffic light, and go east on Prefectural Road 139 to the right and you will be on the right
⇒ Google map