Temple 73
【Pilgrim's Song】
Lost in the six-realms that save all living things
Shakaji on the precious mountain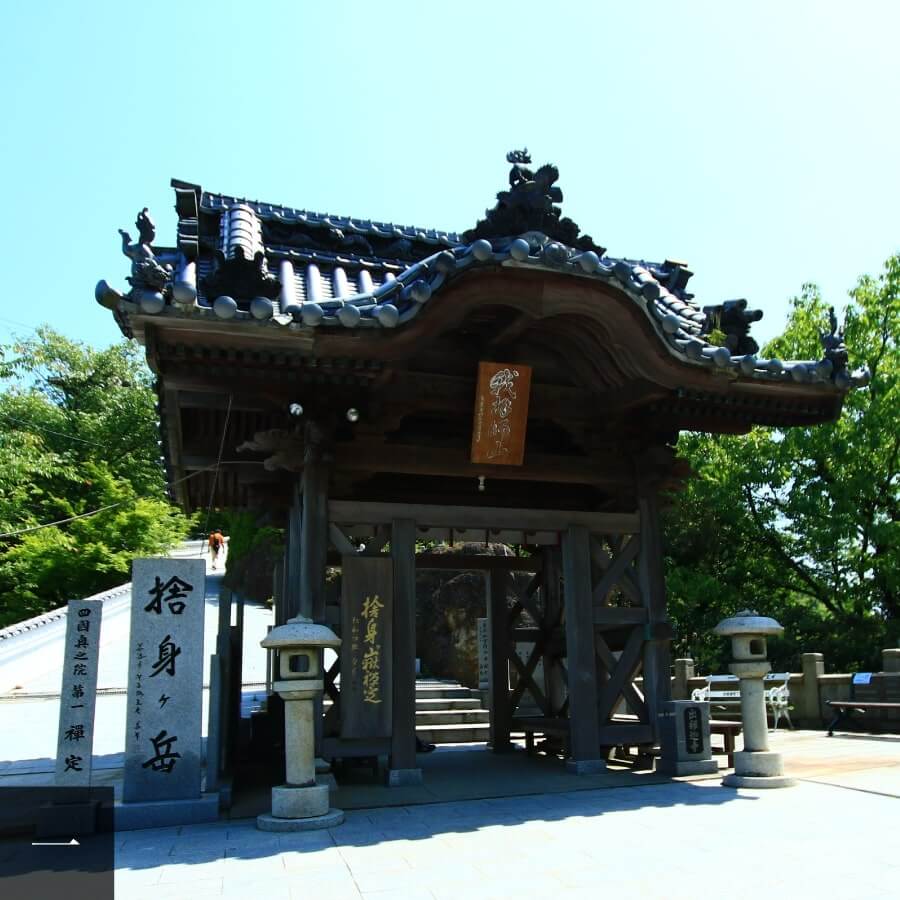 It is located about 50 minutes from the temple grounds, and if you go further 100m, in a pilgrimage hall Goma prayer is held every month on the 15th day of the lunar calendar. * Image 1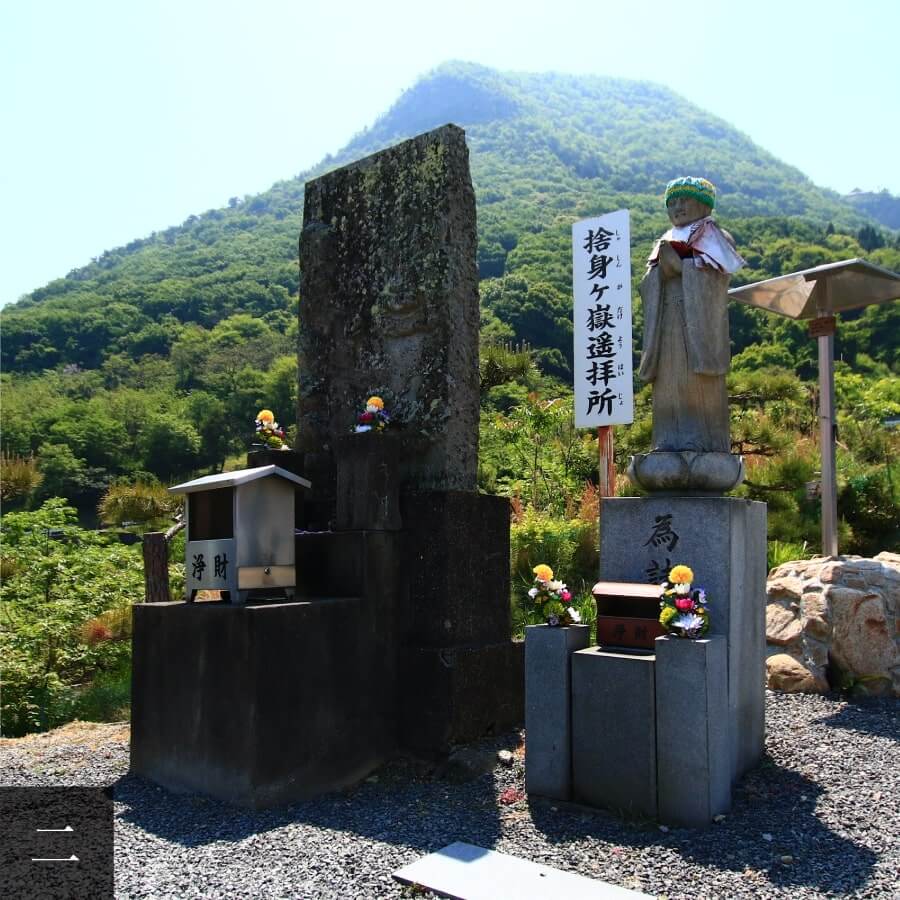 Even if you can't climb to Serigami, you can say that if you chant and pray at the treasure, you will have the same benefits. * Image 2
The history and origin of Shusshakaji
At the opening of Shusshakaji Temple, there is a connection to one of the legends of "Shashingatake", and one of the many legends of Kobo Daishi. That was when Kobo Daishi was 7 years old when he was called "Mao". Going up to to climb Mt. Gahaishi "I want to enter the Buddhist gate in the future and spread the teachings of the Buddha to save many people. If my wish comes true, I will come to Buddha. I throw away all and dedicate this body to the Buddhas." He threw himself from the cliff. Then, a purple cloud sprung forth, and a heavenly woman who wore a hagoromo (angel's raiment) and Shaka Nyorai descended, and held Kobo Daishi in the clouds. Kobo Daishi, who was shown to have his life saved and wishes fulfilled at Mt. Gahaishi, is said to have then come to the summit of the mountain and built the temple.
This place was called "Shashingatake Zenjou" and was originally the fudasho now it is the okuin behind the temple, which is about 50 minutes up the steep slope from the grounds. Since Kobo Daishi completed the "Gumonjihō" method, which chants the mantra of Akasagarbha mantra 1 million times, the name of "Gumonjihō" was given.
Worshiping here gives you a wonderful memory and is said to be beneficial for academic achievement and resist forgetfulness.
In addition, the place where Kobo Daishi put himself is about 50 meters from here. If you look at the bottom, you will see a deep valley that looks like a foot, but you can see a spectacular view of the Sanuki Plain and Seto Inland Sea.
The highlights of Shusshakaji
Shashingatake Zenjo, Sagamigatake Worship Center, Hondo (Kobo Daishi's Honzon, Shaka Nyorai, and the side Buddha are the Fudo Myoo and the Kokuzo Bosatsu.)
Annual events at Shusshakaji
Oku-in Temple

An ancestral offering and goma prayer are held. There is free pick-up from the precincts to the inner shrine only on this day. You can also stay in the hall after the fair. (Participation fee 1,000 yen)
The date and time: Prayer every month from the 15th and 18:30
Location: Wakashi mountainside
* Please contact us as it may be canceled depending on the weather (heavy rain, heavy snow, etc.).

Setsubun general reading method required

Date: February 3

Permanent recharge law

Date: March 15 of the lunar calendar

Cucumber support

The date and time
Temple 73 Fudasho: Gabaishizan Gumonjiin Shusshakaji
Denomination

Shingon Buddhism Omuro

Honzon

Shaka Nyorai

Pioneer

Kobo Daishi

Founding

Late Nara to early Heian period

Mantra

Nōmaku sanmanda bodanan baku
Access
Location

Yoshiwaracho 1091, Zentsuji, Kagawa 765-0061

Tel

FAX

0877-62-2319

Parking

Available (free of charge) * 30 regular cars, 5 large cars (parking area has become wider)

Shukubo


(TempleLodging)

None

Website

None
From Zentsuji Interchange to Kotohira-cho towards National Highway No. 329, turn right at Nishihara Kita intersection, go straight on prefectural road No. 48 (so far the same access as Zentsuji). Turn left after Gora-ji Temple and go straight to see the temple.
* Please note that there are no signs from National Route 11.
⇒ Google map