Temple 40
【Pilgrim's Song】
Flowers freely bloom in the spring of my desire
Yet a burned out thing lives in the transient world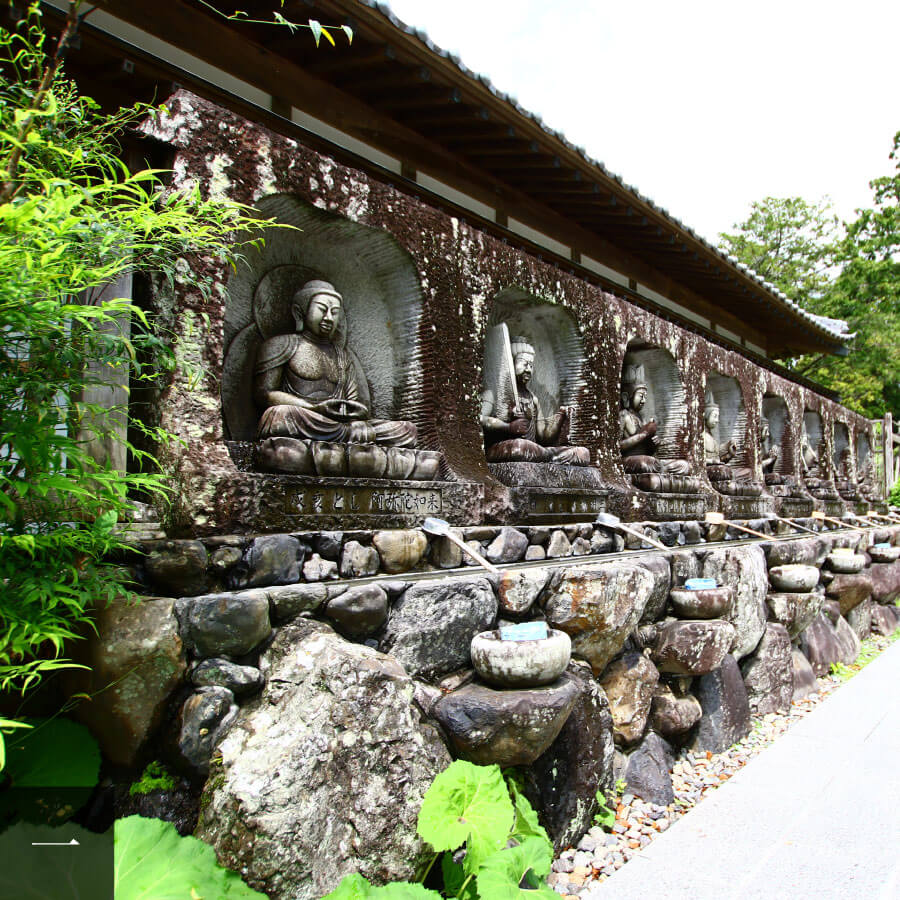 Established in 1978, the 53 year of the Shōwa era, twelve astrological signs protected by eight deities
Senju Kannon Bodhisattva (year of the rat), Kokuzozo Bosatsu (ox and tiger years), Monju Bosatsu (rabbit year), Fugen Bosatsu (dragon and snake years), Bosatsu Boshatsu (year of the horse), Dainichi Nyorai (sheep and monkey years), Fudou Myou (year of the rooster), Amida Nyorai (boar and dog years)
On the eight stone statues that are carved you can put your wishes and put water on your main zodiac guardian. * Image 1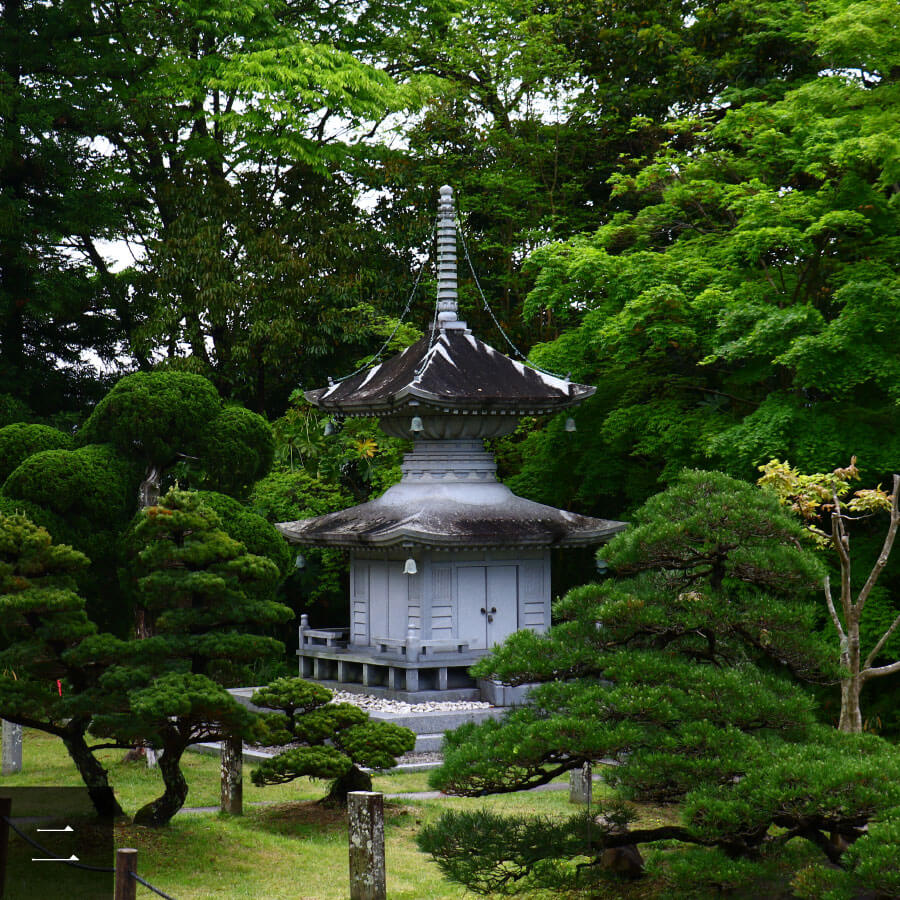 Kōbō Daishi prayed on a pilgrimage tour and prayed for the Heart Sutra to help Heal Emperor Heijo. Following the story, believers from all over the country have been devoted to copying the sutras of Heart Sutra. In 1978, the tower was erected to honor the dedicated sutras. Inside the temple is a the Hannya Bodhisattva, and in the Buddhist temple is enshrined the sutra.
* Image 2
The history and origin of Kanjizaiji
Ehime Prefecture is a "Dojo of Bodhi" (Dojo of Enlightenment). It is the first sacred place, farthest from the sacred mountain temple, and is also called a "Shikoku Sacred Site". The town where the temple is located is in the southernmost end facing the Uwa Sea on the beautiful Rias coast, and you can fully enjoy the scenery of Ashizuri Uwakai National Park, also known as a base for marine leisure and pearl production.
After fortunes became unravelled, Kobo Daishi visited this place under the order of Emperor Heijo (reign 806-09) in the second year of the Daidō era, and from one sacred tree, carved images of Yakushi Nyorai and Amida Nyorai, along with the eleven-faced Kannon, and they were enshrined. At that time, the remaining wood from sacred tree was used to engrave the six-character phrase, "Namu Amida Buddha," and he made a boat-shaped treasure and prayed to remove the roots of trouble of the common people.
Emperor Heijo also gave a monetary contribution of "Heijozan" and was became close friends with the next Emperor Saga (reign 809-23), declaring with his red seal, and dedicating the "Complete Buddhist Scriptures" and the "Great Perfection of Wisdom Sutra". Every year he sent a royal royal envoy to study the secret rituals of Goma. For this reason, this region is called "Miso" and is also called "Hirajo" after the hillside mountain.
In 1638, the fifteenth year of the Kan'ei era in Daikaku-ji, Kyoto, Kuushouhoushinnou stayed during the Shikoku pilgrimage and was granted the name of Yakushi-in. Around this time, the seven structured temple grounds towered, and it was said that it was the pride of the prosperity of the 48 temples at Sueji and two hundred hundred temples. However, all the pagodas were destroyed by fire, and after that, as a prayer place for the Uwajima lords and the Date family, the old grounds were restored to protect the sacred place and the light of Buddhism.
The highlights of Kanjizaiji
Honson and Wakizuchi, the famous treasure of "Nanu Amida Buddha", Hondo (Reconstructed only with the cleanup of the faithful of the whole country in 1964), Daishido (in 1993, made with a treasure of the total shrine, Shikoku in the corridor (You can walk in 88 places)
Annual events at Kanjizaiji
Daishi Fair

Date: March 21

Flower Festival

Date: April 8

Daishi birthday party

Date: June 15

Daishi Festival

Date: August 21

Daishi Fair

Date: October 21
Temple 40 Fudasho: Heijyozan Yakushiin Kanjizaiji
Denomination

Shingon Buddhism Daikakuji School

Honzon

Yakushi Nyorai (by Daishi)

Pioneer

Kobo Daishi

Founding

2nd year of the Daidō era (807)

Mantra

On korokoro sendari matōgi sowaka
Access
Location

2253-1 Mishohirajo, Ainan-cho, Minamiuwa-gun, Ehime 798-4110

Tel

Parking

Yes * Under the Yamamon: 15 ordinary cars, in front of elementary school: 5 ordinary cars

Shukubo


(TempleLodging)

Yes (20 people, reservation required)

Website
From JR Uwajima Station, take Route 56 towards Shimanto in Kochi Prefecture. Enter Ainancho and turn left at the first traffic light (in front of Hachimano Shrine).
⇒ Google map