Temple 72
【Pilgrim's Song】
Slightly prostrated mandala worshipers
Returning home thricely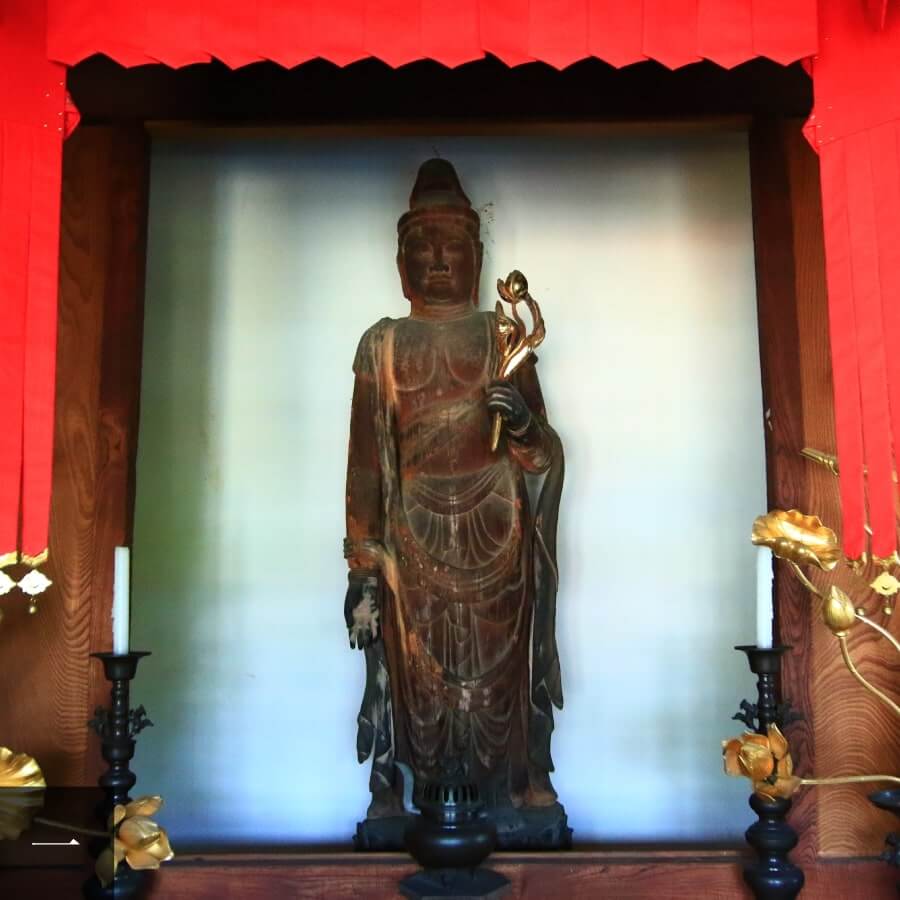 It is enshrined in the Kannon-do, and it has a beautiful cypress wooden appearance standing at 158cm. Late Heian work. Kagawa Prefecture tangible cultural property. This Buddha's face is drawn on the Shikoku 88 commemorative stamps. * Image 1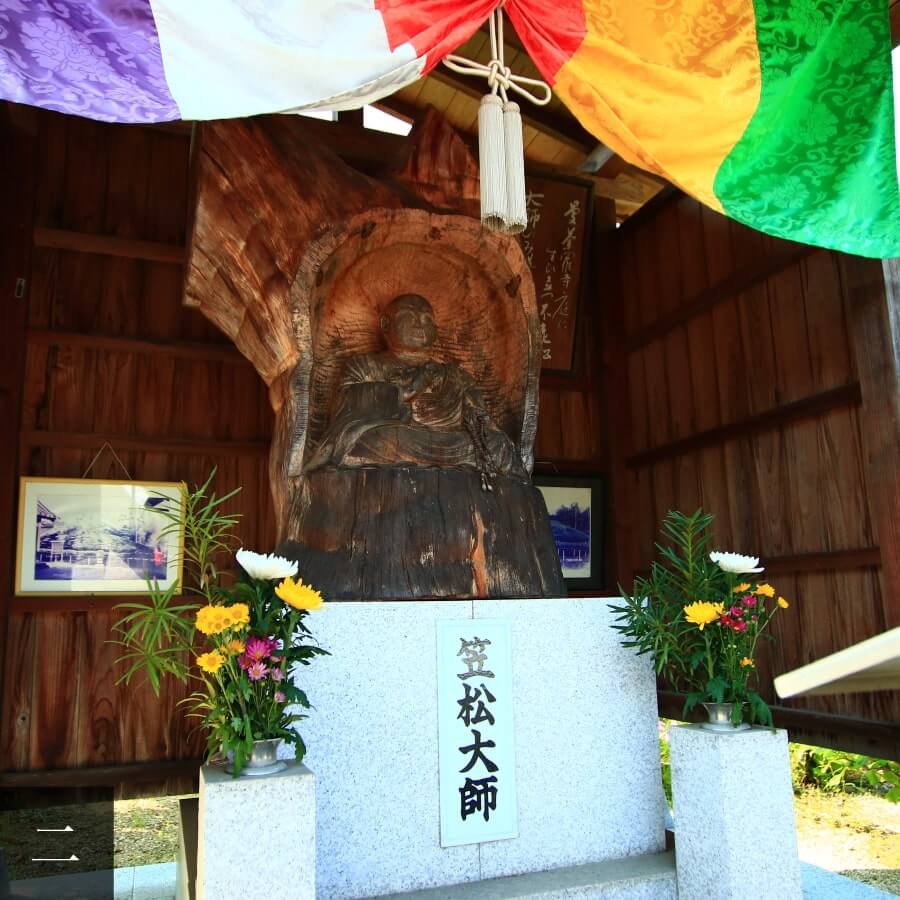 A statue of Kobo Daishiza carved in the trunk of an "Immortal Pine", known as Kasamatsu. Those who are Ohenro will remember the day they touched the Karamatsu Daishi. * Image 2
The history and origin of Mandaraji
According to Engi, the founding of this temple is the oldest, fourth year of the Suiko period, (596) in Shikoku Sacred Sites. It was founded as a temple of the Sanuki lord and the Saeki family, and was initially called "Yosaka-dera". Kobo Daishi visited this temple the year after returning from Tang Dynasty. It is also said that it was for praying for Buddha's enlightenment for his mother. The temple was built in 3 years and modelled after Seiryu-ji Temple in China. He enshrined Dainichi Nyorai to the main temple as the principle deity, and enshrined the "Kongokai" mandala (Vajradathu Mandala of the Diamond Realm) and the "Taizoukai" (Garbhadhatu Mandala of the Womb Realm) which he brought back from the Tang Dynasty, and changed the name of the temple to "Mandaraji".
In addition, the old guidebook of the Shikoku Sacred Sites introduces the existence of "The Immortal Pine", a hand-planted pine of Kobo Daishi that is over 1200 years old. Although it is less than 4m in height, it has a diameter of 17 to 18m, and it was designated as a natural monument of the prefecture with an impressive appearance like two sedge hats lying down. However, it was badly damaged by pine worms and was cut down in 2002, the 14th year of the Heisei era.
There is a hill called "Mizuguki no Oka" near Mandaraji, but it was Priest Saigyou who built a hermitage here and lived here for more than 7 years. It seems that he used to go to this temple and often took a nap on the flat stone in front of the main hall, and this stone is called "Saigyou's nap stone" and is still in the same place. Next to that is a cherry tree called "Kasakake Sakura". When Saigyou returned to the city, he saw the a fellow traveler depart with a shaded cherry tree as a keepsake he sang a song that says, "What is the shade now and how will it be?".
The highlights of Mandaraji
Holy Kannon standing statue, Kasamatsu Daishi, Saigyou's nap stone
Annual events at Mandaraji
Eiji Keizai sand holding law required

Date: Spring day

Star offering

Date: Winter Solstice, New Year's Eve, Setsubun
Temple 72 Fudasho: Gahaishizan Enmeiin Mandaraji
Denomination

Shingon Buddhism Zentsuji

Honzon

Dainichi Nyorai

Pioneer

Kobo Daishi

Founding

2nd year of Daidō era (807)

Mantra

On abiraunken bazara datoban
Access
Location

Yoshiwara-cho 1380-1, Zentsuji, Kagawa 765-0061

Tel

Parking

Yes

Shukubo


(TempleLodging)

None

Website

Socaial Media
From Zentsuji Interchange, turn right toward Koto Square, turn right at the first crossover, and head west on Route 48. Turn left at the signal of Yoshiwara Public Hall, turn right at the middle of the estate, and you will see it on your right.
  ⇒ Google map