Temple 41
【Pilgrim's Song】
The Mikkyō guarding god of Mikuni
Listens to the vows you keep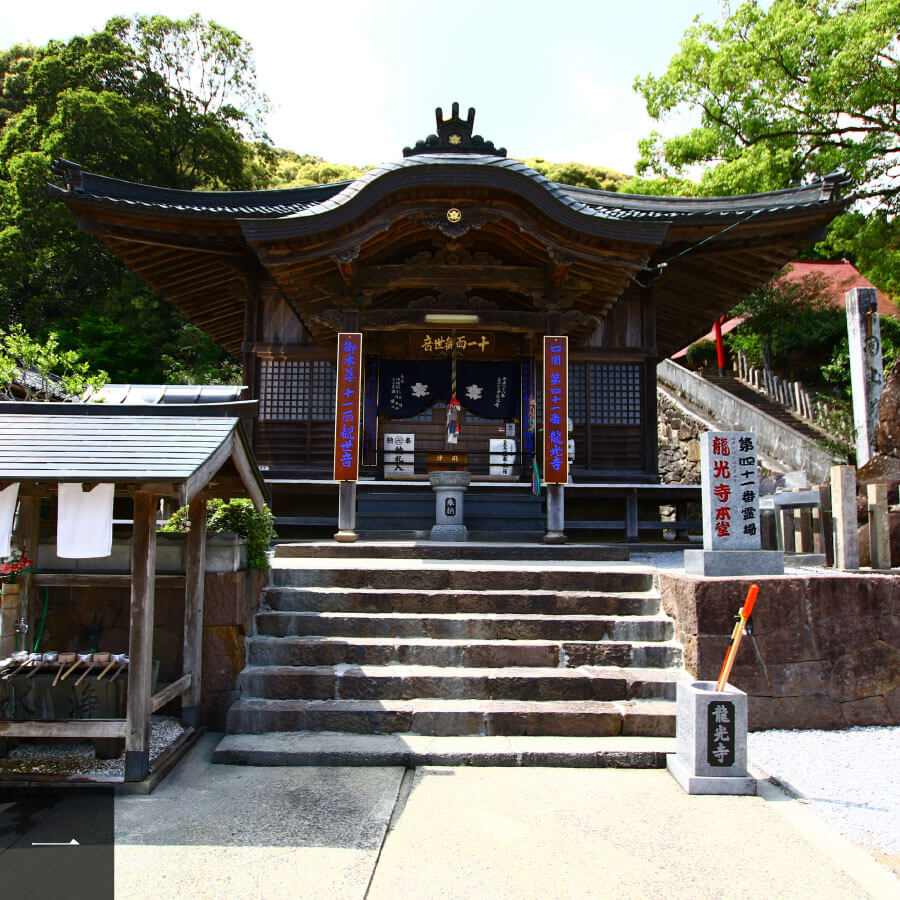 A new main building was erected by the abolishment and destruction of Buddhism in the Meiji era, and the eleven-faced Kannon sculpture statue, the main Buddha was enshrined as the main deity. Also within is the statue of Inari Daimyojin, also displayed next to Kannon, and both have been enshrined and deified by Kobo Daishi. * Image 1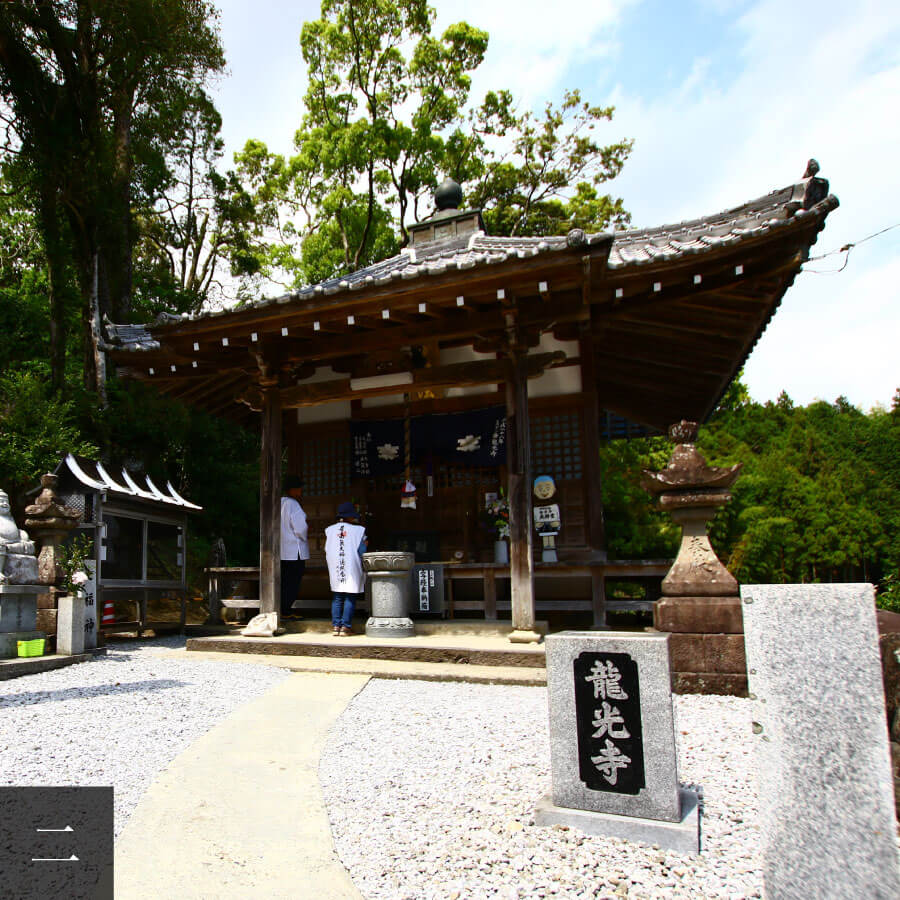 Daishido was also erected around the same time as the main hall. * Image 2
History and origin of Ryukoji
Uwajima is a castle town of the Date family with 100,000 stone stones, and about 10 km northeast of the city is Mima Plain. Locally called "Mima Inari-san", Ryuko-ji is a popular sacred place that gives a deep impression of the Shinto and Buddha practices of the past. The symbol of that is that the gate is a torii gate. If you pass through this gate, you will be greeted by a guardian, a guardian dog, instead of the Nio statues. On the grounds, stone statues of a fox and Jizo-san line up side by side, and Buddha and Shinto God live together.
According to Engi, when Kobo Daishi visited this place in the second year of the Daidō era, a white-haired old man carrying a sheaf of rice appeared, saying, "I live in this place, protect the law, and bring benefit to the people". And disappeared suddenly. The Daishi realizing that this old man was the incarnation of the Five Grains of Myojin, felt encouraged by the Myojin to carve a statue of Inari Myojin, and built and enshrined the hall. At this time, the eleven-faced Buddhist temple Buddha, the main Buddha, and the immovable Mio King and Bishamon Ten were also enshrined and placed together.
Ryukoji Temple, which was a temple of Shinto and Buddhism since its foundation, has been worshiped and maintained as Inari-ji Temple, but the old main hall has been renamed Inari-sha due to the abolition order of Buddhism by the Meiji Government. A new main hall was erected, and the eleven-faced Kanzeon Bodhisattva statue, which was the main Buddha of Inari, is enshrined here as the main statue, and the statue of Inari Myojin of Kobo Daishi is enshrined next to it.
The highlights of Ryukoji
The Sanma Plain has beautiful seasonal flowers, and the Cosmos Festival is held every November.
The 41st Fudasho: Inarizan Gokokuin Ryukoji
Denomination

Shingon Buddhism Omuro

Honzon

Eleven-faced Kannon

Pioneer

Kobo Daishi

Founding

2nd year of the Daidō era (807)

Mantra

On maka kyaronikya sowaka
Access
Location

Mimacho Togari 173, Uwajima, Ehime 798-1115

Tel

Parking

Yes

Shukubo


(TempleLodging)

None

Website

None
Aim for No.42 Buddhist temple from JR Ashinomachi Station. After that, turn left at the intersection in front of Tochiike, and then turn left twice before you can see it on your left.
⇒ Google map