Temple 75
【Pilgrim's Song】
If you lie in Zentsuji where Daishi was born
The Law of Buddha will remain forever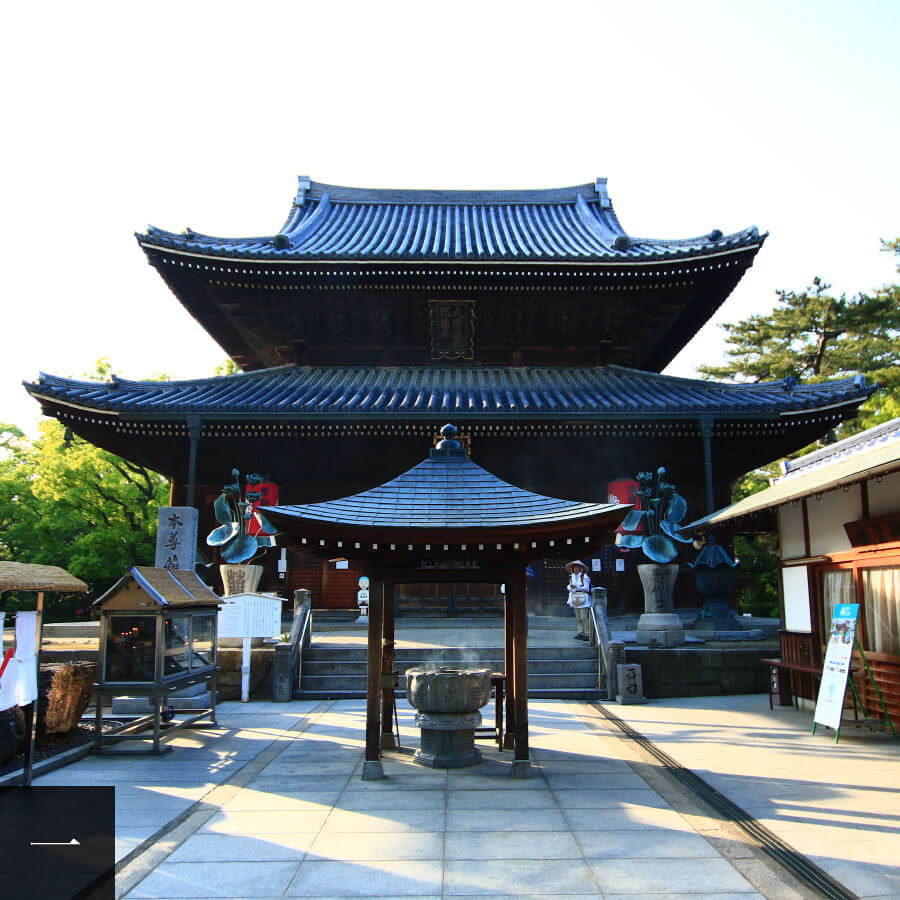 The main hall of Zentsuji. The main hall was founded in the first year of the Eiroku era (1558), the hall was burnt down by Miyoshi Miyoshi, and the current building was rebuilt in 1699, the 12th year of the Genroku era. The principle deity is Yakushi Nyorai is a statue of "joroku" (one "jo" and six "shaku", which is 3 meters in height, and was enshrined in 1700, the 13th year of the Genroku era, by the Chief Priest Kitagawa, of the Omuro sect of Buddhism. * Image 1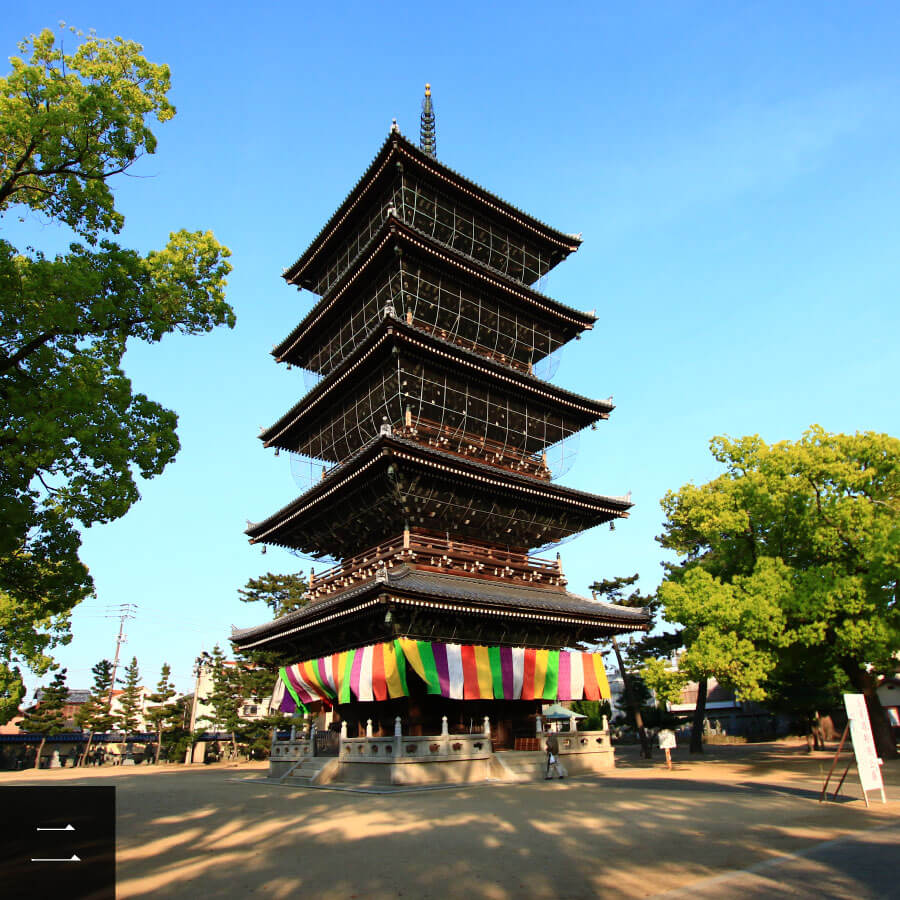 This is a large pagoda with a total height of 43 meters and is widely known as a symbol of Zentsuji. Since its establishment, it has been destroyed and burned down several times due to wind and fire, but it was rebuilt each time. The current tower was rebuilt in 1845 by the honor of Emperor Nitaka, and was completed in 1902, in the 35th year of the Meiji era.
In the first layer, four of the five statues of "Gochi Nyorai" (Five Dhyani Buddhas), are enshrined and are open to the public every year during Golden Week. * Image 2
The history and origin of Zentsuji
According to the "Tado-gun Byoubugaura Zentsuji no Ki" (established in the middle of the Edo period), Gogakuzan Zentsuji was founded after Daishi had returned from the Tang Dynasty to the four towns and four lands, that his father donated, This temple was built in the style of Chang'an Seiryu-ji, where a certain teacher Eka Kazuo lived. On the second year of the Daidō era (807), on the twelfth lunar month, "Zentsu", pronounced at the time as "Yoshimichi" (Daishi's father's name) was used to create "Zentsuji", the temple. And so it is written.
In the Kamakura period, the "birthplace" was built on the ruins of the Saeki family during the Kamakura period, and until the Edo period, it was a separate temple with priests in Zentsuji and the "Tanjouin", but it became one temple as Zentsuji in the Meiji period. It was. Currently, it is the head temple of the Shingon Buddhism Zentsuiji school, and is also the 75th fudasho of the 88th sacred sites of the Shikoku 88 temple pilgrimage.
The current Zentsuji temple is called "Byoubugaura" Gogakuzan Tanjyouin Zentsuji", and the mountain name "Gogakuzan" is derived from the five mountains of Mt. Koushika, Mt. Hitsu, Mr. Gahaishi, Mt. Nakayama, and Mt. Hiage that rise in the west. Because the mountains are connected like a folding screen, this area was once called "Byoubuho". And the name of "Tanjyouin" indicates that it is the birthplace of the master. Zentsuji, the birthplace of the temple, has long been a tribute to one of the three great legacies of Kobo Daishi, along with Toji Temple in Kyoto, and Koyasan in Wakayama.
The vast grounds, which covers a total area of about 45,000 square meters, is divided into the eastern and western sections, one called the "Garan" in the east and the west is called the "Tanjyouin". The "Garan" lined up with the Kondo (Main Hall) and the five-storied pagoda has been the temple area since its founding, and the "Birthplace" is centered around the Mikage-do which is the ruins of the Saiki family residence where the Daishi was born. Both sections covey their relevance in their relationship to Kobo Daishi's birthplace.
The highlights of Zentsuji
Kondo, five-storied pagoda, Mikagedo (built in the residence of the Saiki family where Kobo Daishi was born, and the inner shrine is enshrined with the statues of the priest and Himeki Daishi. It was rebuilt in 1831 and was renovated on a large scale in 1945. In addition, in the basement of Mikagedo, there is a passageway of about 100 meters in darkness. It is a dojo that is connected.
Temple 75 Fudasho: Gogakuzan Tanjyoin Zentsuji
Denomination

Shingon Buddhism Zenzenji

Honzon

Yakushi Nyorai

Pioneer

Kobo Daishi

Founding

Daidō era 2nd year (807)

Mantra

On korokoro sendari matōgi sowaka
Access
Location

Zentsuji-cho 3-3-1, Zentsuji, Kagawa 765-0003

Tel

0877-62-0111 (representative)

Parking

Yes

Shukubo


(TempleLodging)

Yes (capacity 250)

Website
From Zentsuji interchange to Kotohiracho, take Route 319. Turn right at Nishihara Kita intersection and go straight on prefectural road 4. You will reach a large parking lot connected to Saiin.
  ⇒ Google map