Temple 50
【Pilgrim's Song】
However busy we need to pray
Pray and hope to heal all diseases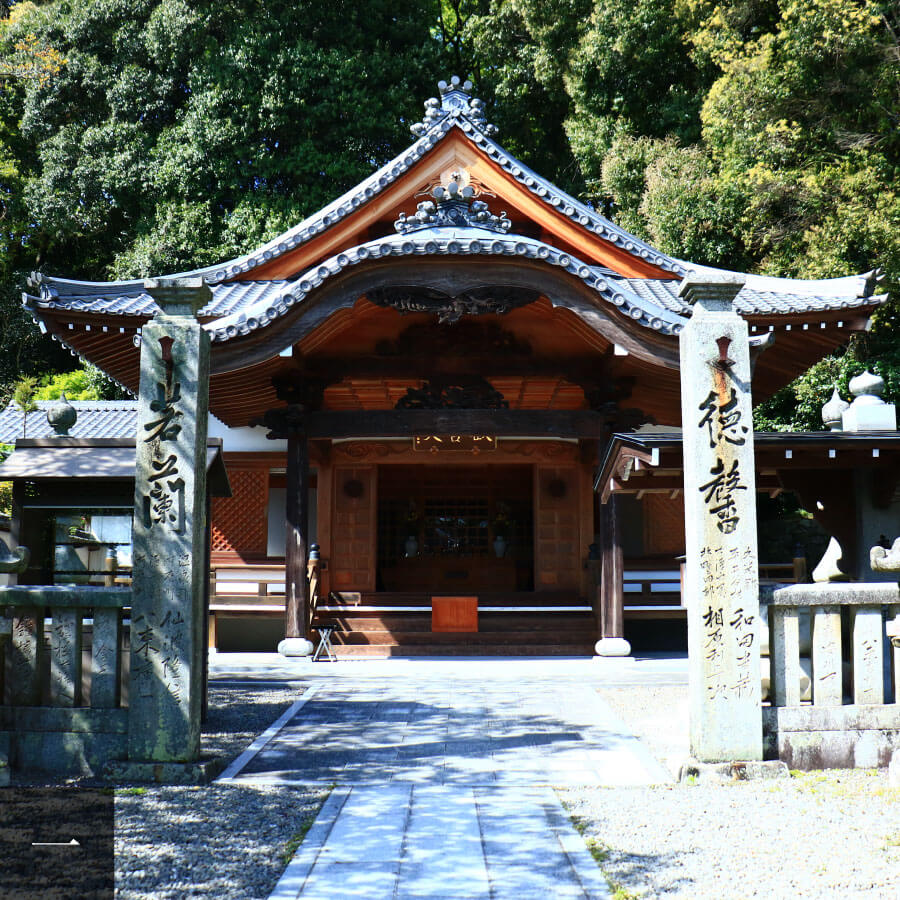 It is enshrined on the left side of the main hall. It is said that if you pray, you will be rewarded with richness, good luck, marital harmony, and prosperous business. * Image 1
Twenty-four Bell Tower ceiling paintings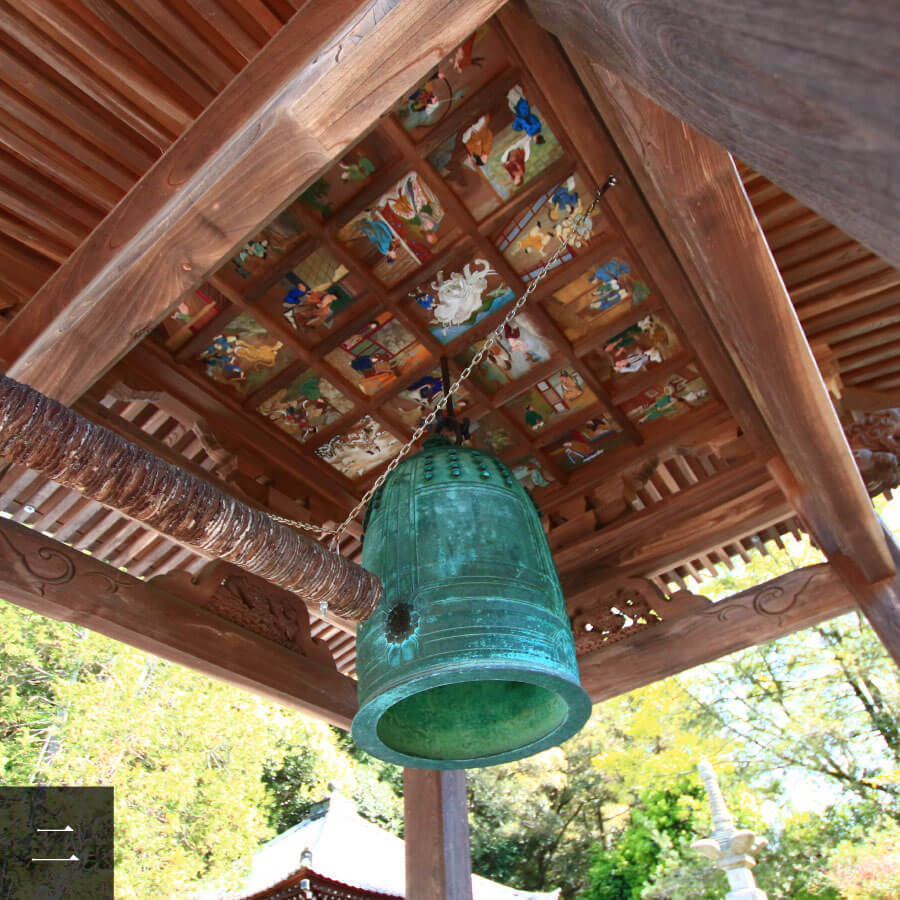 Important Note: (TEXT IS SAME AS ABOVE) * Image 2
The history and origin of Hantaji
The temple is located on a hill with a panoramic view of Matsuyama Castle, the city of Matsuyama, and the Seto Inland Sea.
According to Engi, the Imperial Court of Emperor Koken (reign 749-58) Gyoki Bodhisattva carved a statue of Yakushi Nyorai and placed it there during the Tenpyō-Shōhō era. There is a theory that this became the temple name because its was given as a gift. During the Kōnin era (810 ~ 24), Kobo Daishi traveled to the area and was settled in this temple.
After that, the temple declined, but it was revived with the help of the provincial governor, Minamoto Yoriyoshi, and the monk, Takaren. In the second year of the Kōan era (1279) under the edict of Emperor Gouda (reign from 1274 to 87), the monk prayed at this temple to repel the Mongolian army. In addition, when the founder of Tokisune, Ippen Shōnin (1239-89) returned to Iyo from Dazaifu in his youth, he attended an associated temple and trained. Shōnin dedicated the temple in the late 1st year of the Shōō era (1288), the "Jodo Sanbukyou" (Three major sutras of Pure Land Buddhism) , which was held by his late father and Buddha.
Furthermore, there is a deep connection with the Emperor's family temple in Kyoto, and Sengyo-ji Temple. in 1395, the 2nd year of the Ōei era, Emperor Gokomatsu (reign 1382 to 1412) sent Sengakuji 26th and Kaohao Kazuo into prominent positions. He became the seventh priest of Hantaji. From the edge, the temple has tiles bearing coats of arms with 16 emblems. Some remain to this day.
Also, in the Edo period, following the Tokugawa family's religion, the 4th shogun and family line enshrined the three Buddhas of Nandikesvara. The temple flourished.
The highlights of Sanji Temple
Tenjinjin, delightful celestial statue, 10,000 stone pillars (on the back side of the temple's stone pillar in front of the mountain gate. A monument that fulfilled 10,000 pilgrimages.)
Annual events at Sanji Temple
Flower Festival (Amacha entertainment)

Date: April 8

Jizo Bon (Children's Sumo Tournament)

Date: August 24

Delight

Date: 16th of every month

Delightful general youth prayer meeting

Date: January 16th, August 16th
Temple 50 Fudasho: Higashiyama Rurikoin Hantaji
Denomination

Shingon Buddhist Toyoyama School

Honzon

Yakushi Nyorai

Pioneer

Gyoki

Founding

Tenpira Katsuho Year (749-757)

Mantra

On korokoro sendari matōgi sowaka
Access
Location

Hataderamachi 32, Matsuyama, Ehime 790-0912

Tel

Parking

Available (free)

Shukubo


(TempleLodging)

None

Website

None
From Matsuyama Interchange, take Route 33 to Matsuyama city. Turn right at Tianshan intersection and enter the loop line. Turn right at the first intersection beyond the Edamatsu intersection and run for about 1 km. Go further 600m beyond the bus stop Hataji and you will see it in front.
⇒ Google map