Temple 65
【Pilgrim's Song】
When in misery at the place of three corners
Pray that mercy and compassion come to the heart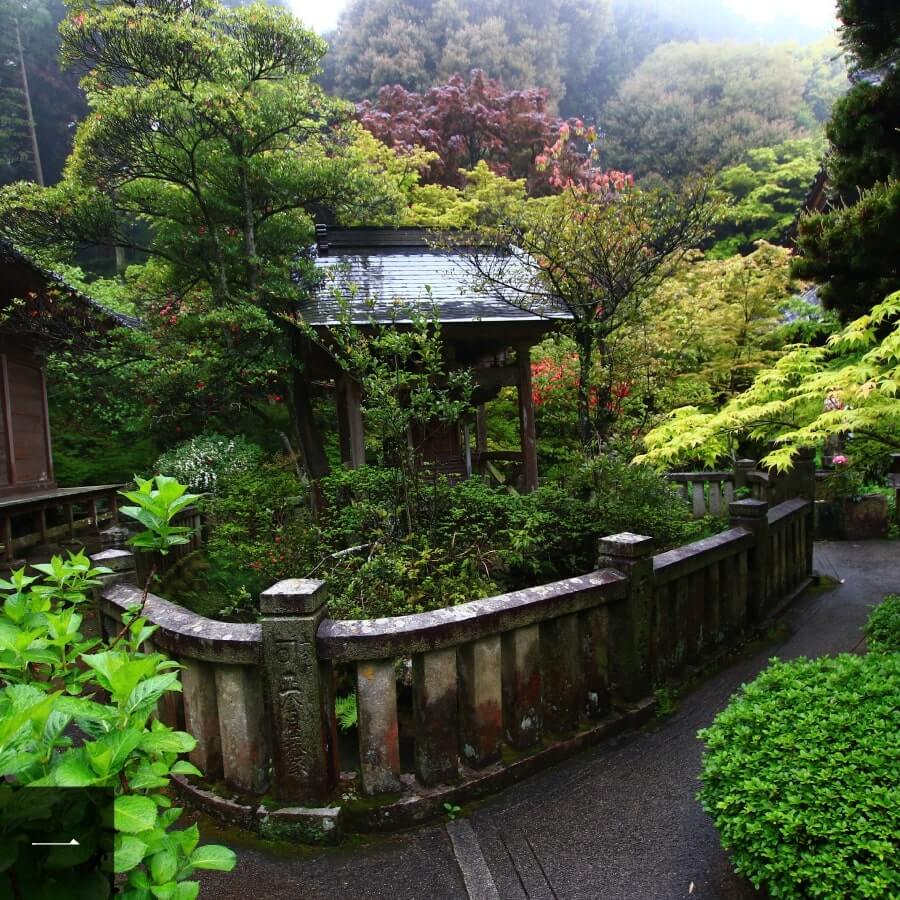 There is a triangular island in the pond, around a few dozen meters around, and a small hall where Benzaiten (goddess of music) is enshrined. * Image 1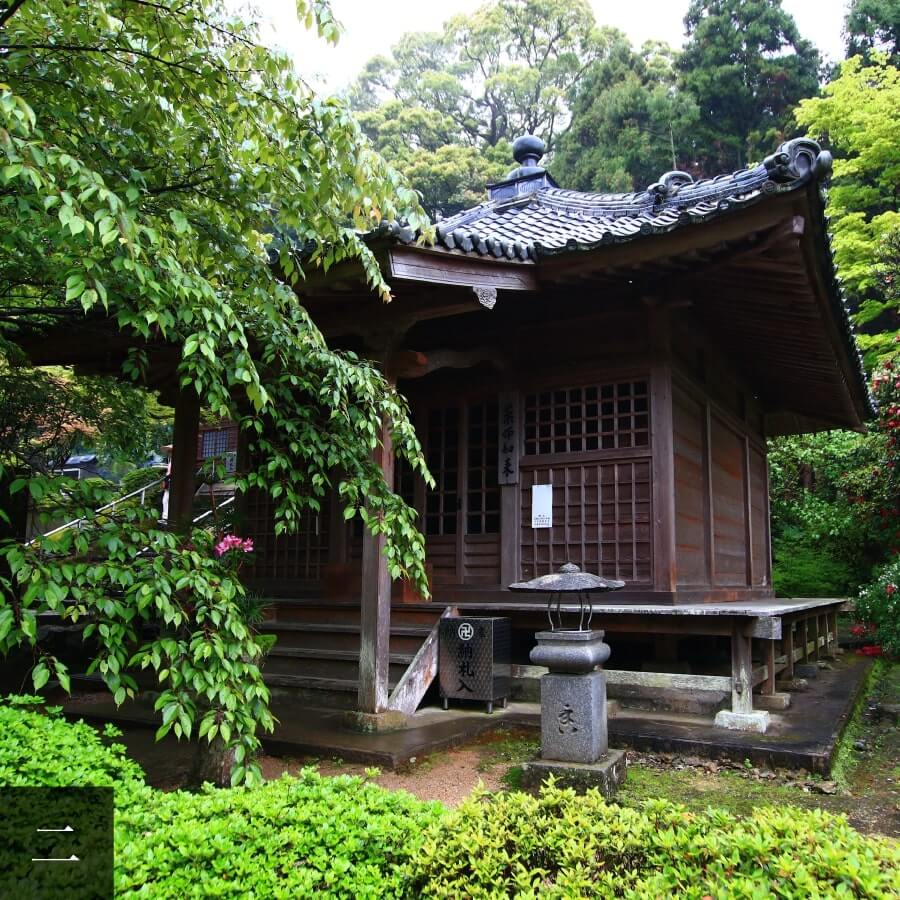 It is said that this place can cure warts and corns on feet. The warts fall like a pine cones. For corns on the feet, dedicate a votive picture of an octopus and pray for relief. The octopus suckers will remove the corns from feet. * Image 2
The history and origin of Sankakuji
When the poet Issa Kobayashi of the Edo period visited in the 7th year of the Kansei era, (1795), he said, "This is the only way to climb a mountain. Mountain sakura." Yamauchi is a famous place full of cherry blossoms that are 3,400 years old. This is the last sacred place in Iyo, at an altitude of about 360m.
According to Engi, it is reported that Gyoki Bodhisattva founded the temple to emulate the Maitreya Pure Land at the imperial request of Emperor Shoumu (reigned 724 to 49). After that, Kobo Daishi visited in 815, in the 6th year of Kōnin era, and carved a statue of the eleven-faced Kannon. In addition, the Daishi also engraved with the statue of King Fudou Myou, and built a triangular "homa-mandala" (fire altar), and was trained in the "Secret Law of Goma" ritual for 21 days in prayer for national security and the well-being of all. The remains of this homa-mandala survive as an island in the "Triangle Pond" between the residence and Yakushido, and it is the origin of the temple name. In addition, the Emperor Saga (reigned 809 to 23) received the deep religion, and 300 hectares of land was provided as temple grounds. It is said that the fortune of the seven structure temple grew and became prosperous.
However, the temple was damaged by the "Tensho Fires" of the Chosokabe army and burned down some of the buildings. The current main hall was rebuilt in 1849, the second year of the Kaei era, and was restored in 1971, the 46th year of the Shōwa era.
The Kannon in the Honzon has long been a source to ward off evil, and as the Kannon for ease in childbirth for those who seek faithfully. A talisman amulet and belly band are given, and it is said that a couple who is not blessed with a child receives a ladle at the temple and that if they eat together they will be blessed with children. After the child is safely delivered it is customary to prayerfully replace the ladle you were given with a new one.
The highlights of Sankuji
Triangular pond, Yakushido, Enzo Jizo statue (Rebuilt in 1977. 7m high copper)
Temple 65 Fudasho: Yureizan Jisonin Sankakuji
Denomination

Koyasan Shingon sect

Honzon

Eleven-faced Kanzeonen (by Kobo Daishi)

Pioneer

Gyoki

Founding

Tenpyō era (729-749)

Mantra

On maka kyaronikya sowaka
Access
Location

Kanadacho Sankakuji-Ko 75, Shikoku Chuo, Ehime 799-0124

Tel

Parking

Yes

Shukubo


(TempleLodging)

None

Website

None
Enter National Route 192 from Mishima Kawanoe Interchange. Head toward Tokushima, turn right at about 200m and turn right for about 4km.
⇒ Google map