Temple 64
【Pilgrim's Song】
Before the god is Buddha's paradise
Taking away all the guilt of sin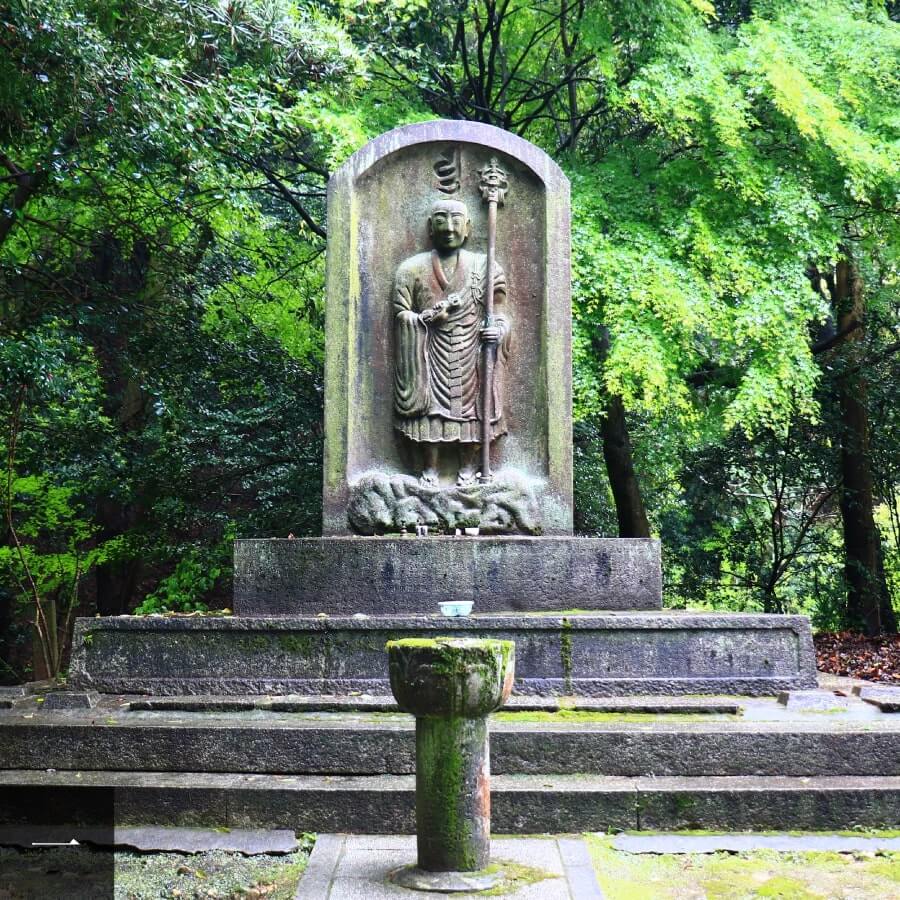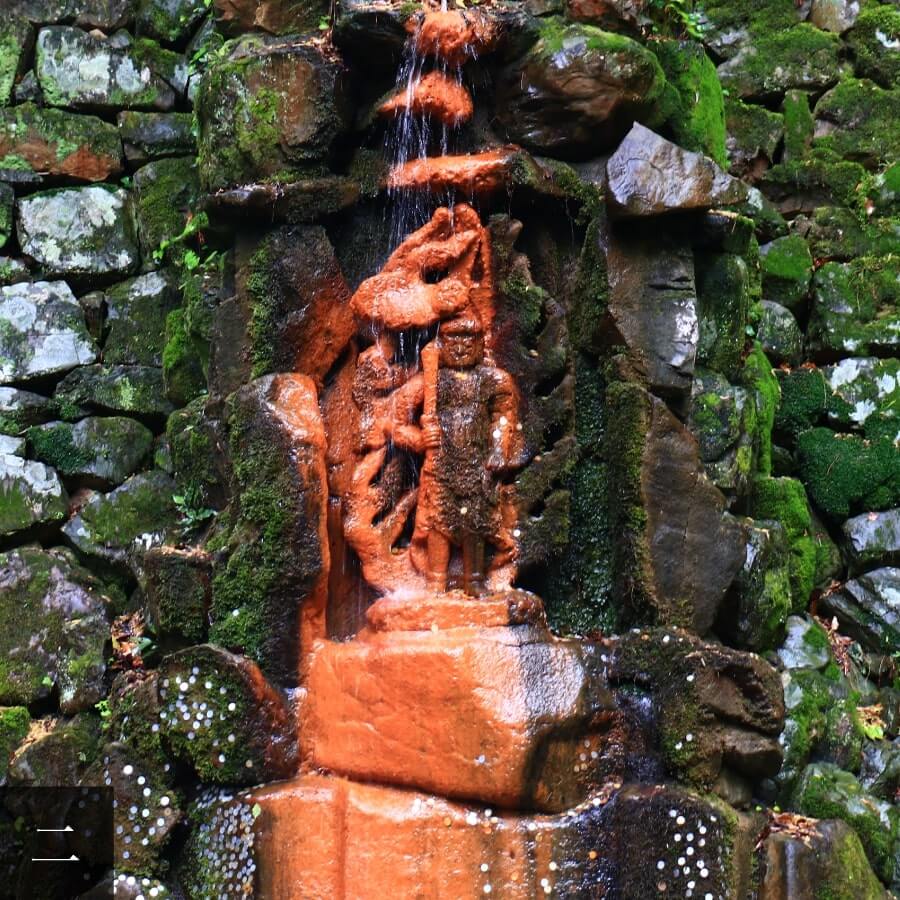 On the right after crossing the Pure Land Bridge in the right back of Daishido. In the past, training under the waterfall was performed. Image 2
History and origin of Margamiji
It is a sacred place at the foot of Mt. Ishizuchi (altitude 1982m), one of the seven sacred mountains in Japan that is worshiped as a mountain for mountain worship, and is the head temple of the Shingon sect of Buddhism.
In the beginning, during Emperor Tenmu's reign (673-86), The founder of Shugendō (Japanese mountain asceticism incorporating Shinto and Buddhist concepts) Ozunu, when he finished performing ascetic rituals on Mt. Ishizuchi, both Sakyamuni and Amida appeared to him in the form of Zaō Gongen to relieve the suffering of the people. He was moved by the fact that they had appeared and enshrined them by engraving a statue. Later, Emperor Kanmu (reign 781 to 806) prayed for and received healing for illness, and established a seven structure temple, and at his order was granted the name "Konjikiin / Maegamiji". Since then, Emperor Buntoku, Emperor Takakura, Emperor Gotoba, Emperor Juntoku, and others, became deeply religious.
Later, Kukai (Kōbō Daishi) is also known to have visited Ishizuchiyama twice and studied the laws of Akasagarbha (bodhisattva), Goma training and fasting training, among others.
In the Edo period, the temple luck was thriving and became a place of prayer for Lord Saijo of the Matsudaira family, giving the three-leaved temple crest, etc. . It was reconstructed as Maegamiji in 1882, year 22 of the Meiji era, and the temples were handed down as the Shingon sect headquarters.
The annual "Opening of the Mountains" is from July 1st, is a gathering time with the lay people in white robes, chanting "Nanmaida" to the sound of conch shells.
The highlights of Margamiji
Gongen-sama fair, Mitake Yokoba Fudoson (right back of Daishido, right of Jodo Bridge, once trained in waterfalls), Okunoin, Okuzenjinji (in the middle of Mt. You can visit during the mountain opening period.)
Annual events at Margamiji
Revision meeting

Date: January 1 to 3 at the main hall (①9: 00-11: 00 ②13: 00-15: 00)

Setsubunkai (Star Festival)

The date and time: February 3rd (13: 00- Opening and fortune casting of Shigeru Daigo Makoto, Gongen-sama)

Kanbutsukai (Flower Festival)

The date and time: May (7: 00-17: 00 Amacha is available in front of the Shukubo entrance)

Osunafumi

Date: May (9: 00-16: 00 at the main hall)

Natsuyama training

The date and time: June 30 (7: 00- Shiba-lanto Daigo)

Natsuyama training application

The date and time: February 3 (12:30-Shibanato Daigo-no-Makoto, Gongen-sama will be opened and fortune casting)

Revision meeting

The date and time: December 31 23:45-Night of the night bell (Gongen-sama's bill is awarded) Goma-don (Fudodo), Gongen-sama opening book (Gongen-do)
Temple 64 Fudasho: Ishizuchisan Konjikiin Maegamiji
Denomination

Shingon Buddhism

Honzon

Amida Nyorai

Pioneer

Executive Officer Kokaku

Founding

Late 7th century

Mantra

On amirita teisei kara un
Access
Location

1426 Sonouchiko, Saijo City, Ehime Prefecture 793-0053

Tel

Parking

Available (free)

Shukubo


(TempleLodging)

None/dd>

Website

None
From Iyo-Komatsu Interchange, take National Route 11 toward Saijo City. Turn right at the 100m point of Ishizuchiyama Station signal and go straight ahead.
⇒ Google map