Temple 74
【Pilgrim's Song】
In battle having the view of the Twelve Gods
The mountain is the helmet of my heart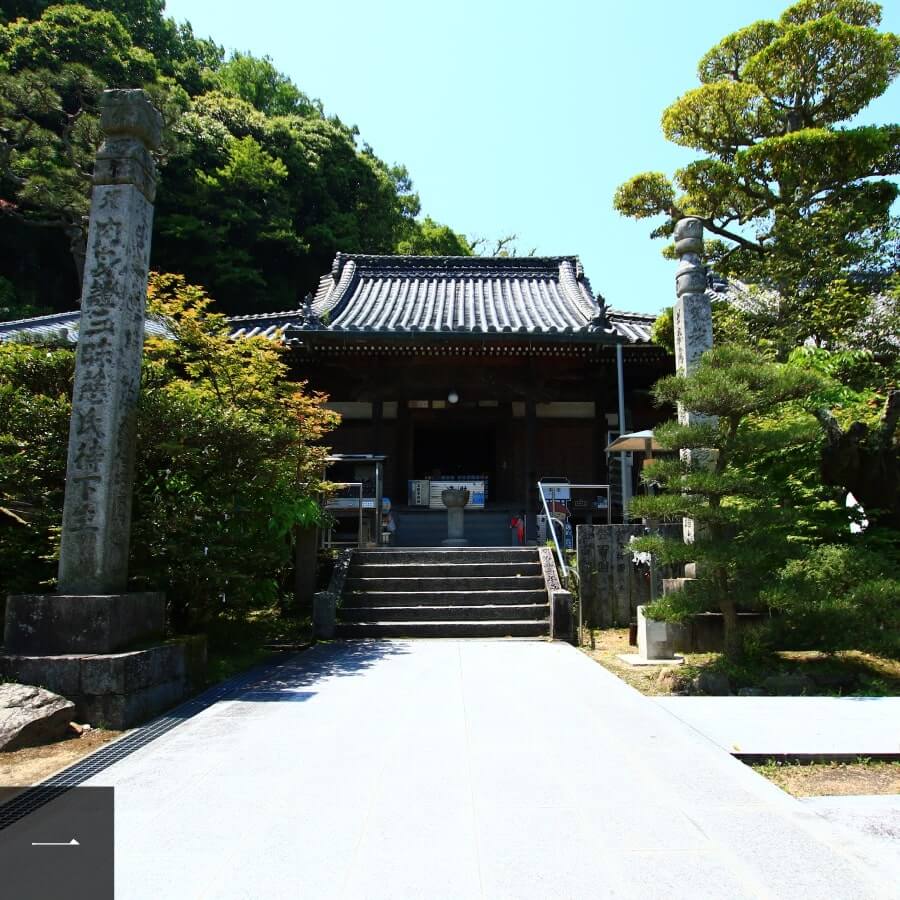 The "Yakushi Nyorai statue" is enshrined in a single cypress tree, impressive with a strong figure and impressive expression. * Image 1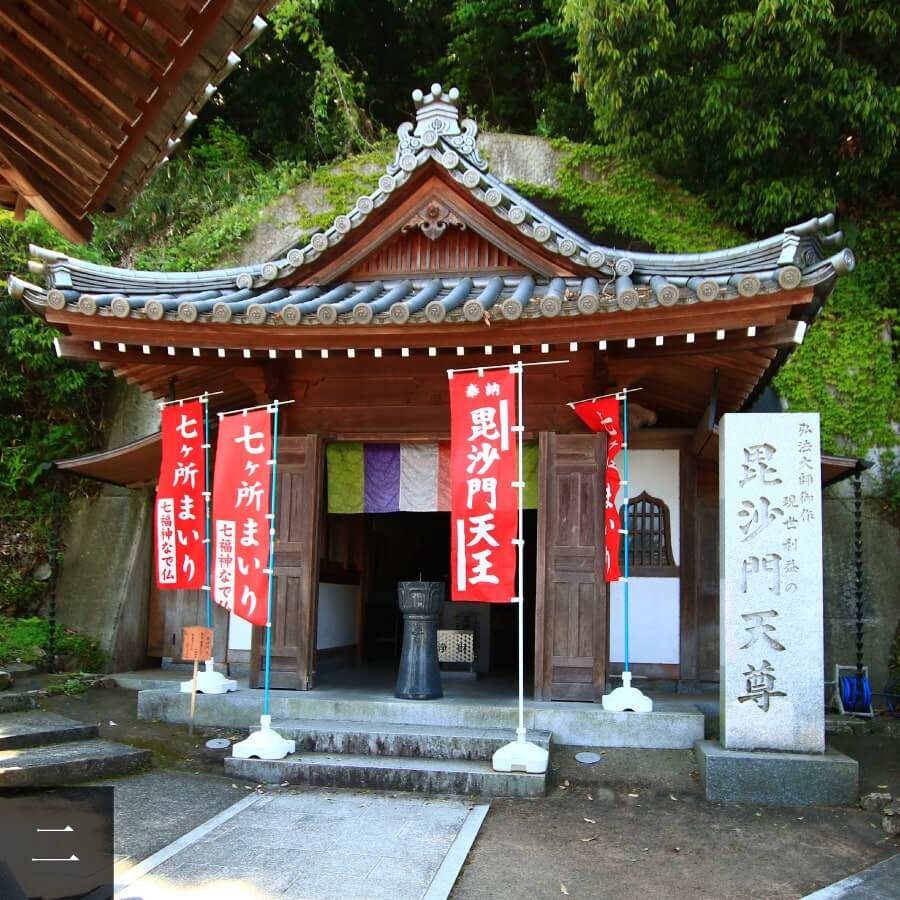 A cave with a depth of 12m on the left side of Daishido. The Bishamon statue, which is said to have been carved by Daishi, is enshrined. * Image 2
History and origin of Koyamaji
The area around Koyamaji is the hometown of Kobo Daishi, and it is said to have played a role in his childhood. Kobo Daishi, who was in the early peaceful days and in the prime of life, was looking for a sacred place to build between Zentsuji and Mandaraji.
At one point, when he walked near Mt. Ko, an old man appeared from a rocky cave, "I am a saint who has lived here for a long time, provided happiness and benefits to people, and spread the teachings of the Buddha. I will protect you forever. "Kobo Daishi was delighted and engraved the Bishamonten celestial statue, placed in the cave, and enshrined it.
After that, Kobo Daishi was appointed as a director to oversee the construction of the largest reservoir in Japan, Mannoike, in response to the edict of Emperor Saga. It was a difficult construction that even the specialists dispatched by the Imperial Court could not accomplish. Kobo Daishi prayed for the completion of the restoration work at Koyama's cave and carved a statue of Yakushi Nyorai. Then, tens of thousands of people gathered in admiration of the master, and together they completed it in just three months. Kobo Daishi, who was commended for this achievement by the imperial court and was awarded 20,000 sen, used part of it for the construction of the temple, and enshrined Yakushi Nyorai, who was engraved in prayer earlier. It was named "Koyamaji" because the shape of the mountain resembles that of the shape of Bishamonten's armor.
Yakushi Nyorai is a Buddha who is said to be ward off anything that harms the body and mind. It goes without saying that it is a powerful blessing for the people who have visited Koyamaji.
The highlights of Koyamaji
Main Hall, Bishamonten Cave, Koyasu Jizo (Ojizo, who was enshrined next to the stone steps leading to Daishido, is beneficial to children.)
Annual events at Koyamaji
Learn the secrets of Bishamonten

Learn the secret techniques of Bishamonten and receive a good luck talisman.
Date: New Year's Day

The autumn equinox middle day and the equinox society

Date: September 23
Temple 74 Fudasho: Iouzan Tahouzan Koyamaji
Denomination

Shingon Buddhism Zenzenji

Honzon

Yakushi Nyorai (by Daishi)

Pioneer

Kobo Daishi

Founding

Early Heian period

Mantra

On korokoro sendari matōgi sowaka
Access
Location

1765-1 Hirotacho 1765-1, Zentsuji, Kagawa 765-0071

Tel

Parking

Available (free)

Shukubo


(TempleLodging)

None

Website

None
From Zentsuji Interchange, take Route 11 toward Kannonji. When you pass through the high-speed overpass, a signboard appears at each corner. Turn left after Gochura Temple and go straight.
  ⇒ Google map