Temple 60
【Pilgrim's Song】
Temple stands on the peak of a mountain
Is something that saves all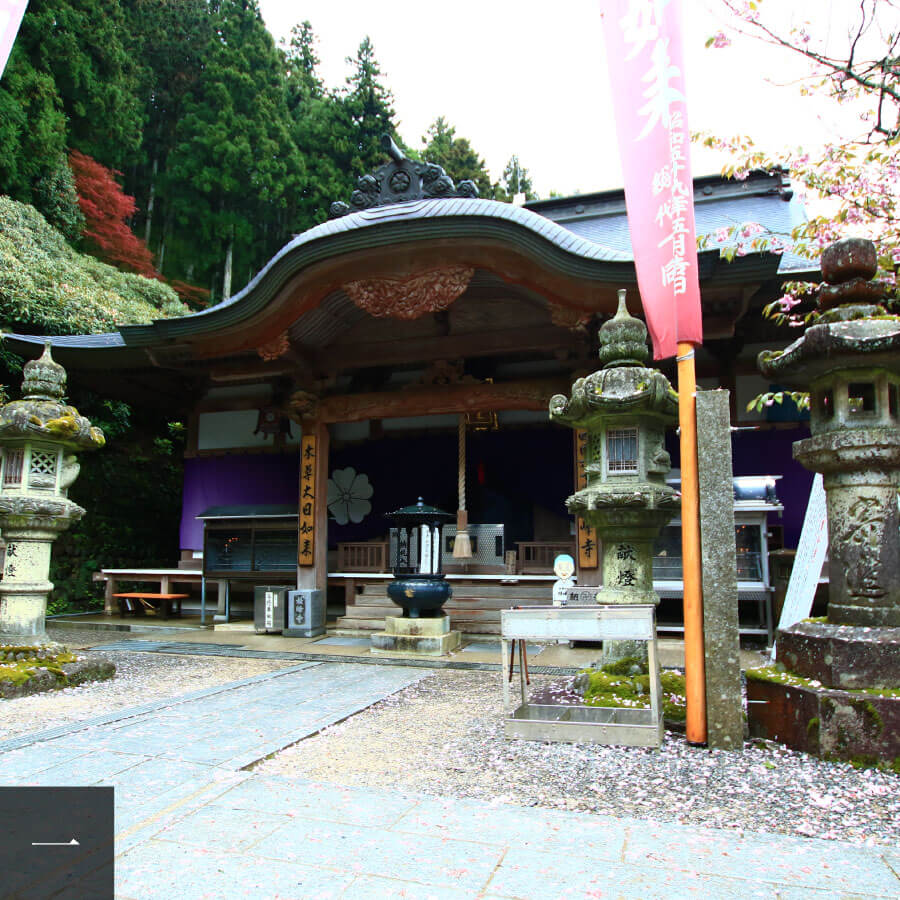 A Shinto shrine style structure. The honzon holds a statue of Dainichi Nyorai, created by The high priest Kōbō Daishi. It is also an important cultural property designated by the prefecture. * Image 1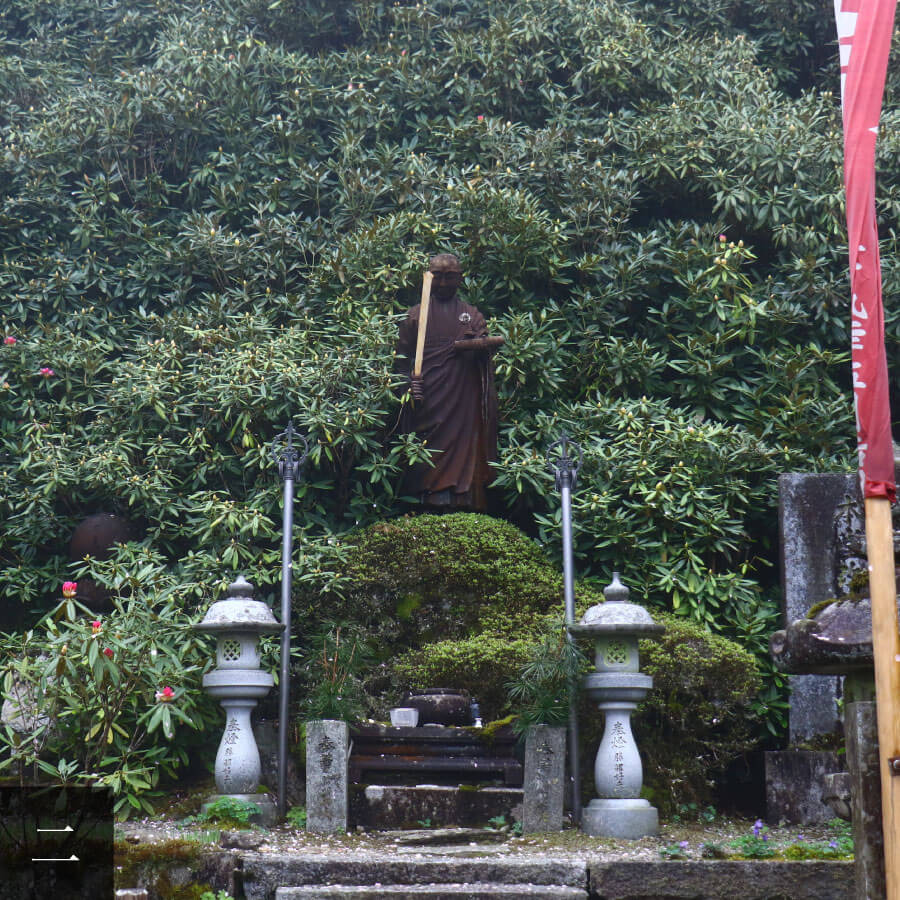 The front left of the main hall. He has a sword in his right hand and a scroll of stars in his left hand. * Image 2
History and origin of Yokomineji
The highest peak in western Japan, Mt. Ishizuchi (at an altitude of 1982m) is a sacred place for mountain worship and a dojo for training. In this mountain, Kobo Daishi, Kukai, when he was 24 years old, wrote "Sankyo Shiki" (a famous dialectic allegory and debut work), "Sometimes, I was cut off from food sources (fasting) separated from the world (penance)" The state of training was recorded. The state of his training on this mountain is described. The grounds are located on the northern middle (750m) of Mt. Ishizuchi. Located in the third highest of the Shikoku sacred sites, it was the most difficult to access of all, the term "Henro Rolling" (falling and crashing pilgrim) is used. The forest road was completed in 1984, and can now be visited by car to a forest road parking lot 500 meters away from the precincts. However, in winter, it will be closed from late December to February. Large buses are not allowed.
According to Engi, in the second year of the Hakuchi era, when an attendant was training at Hoshigamori on Mt.Ishizuchi, Zao Gongen appeared near the summit. Carving that figure on a stone camphor tree and a small hall was built and the figure enshrined. Also, during the Enryaku era (782-806), there was an ascetic named Ishisen-sennin, who reportedly provided brain disease healing for Emperor Kammu (reigned 781-806).
It is said that Kobo Daishi practiced the memorial services, rituals to ward off evil, and the prayers for good fortune at this temple during the Daidō era. (806-10). Since then, the temple has flourished as a separate temples for Shinto and Buddha practice, but the temple was abolished by the Meiji New Government's Buddhism abolition order. In 1907, it has finally been reconstructed with the cooperation of the Shinto "dan" believers.
The highlights of Yokomineji
Hondo, Hoshiyo Daishi, Ishibana Hana (planted from the main hall on the side of the mountain next to the Daishido. Bright early red flowers coloring the grounds from the beginning of May.)
Annual events at Yokomineji
Star Festival

Date: February 3

Flower Festival

Date: April 8 of the lunar calendar
Temple 60 Fudasho: Ishizuchizan Fukuchiin Yokomineji
Denomination

Shingon Buddhism Omuro

Honzon

Daichi Nyorai

Pioneer

Executive Officer Kokaku

Founding

Hakuchi era 2nd year (651)

Mantra

On abiraunken bazara datoban
Access
Location

2253 Komatsucho Ishizuchi-ko, Saijo, Ehime 799-1112

Tel

Parking

Yes

Shukubo


(TempleLodging)

None

Website

None
From Iyo-Komatsu Interchange, take National Route 11 towards Saijo City. After passing the Himi intersection, turn right onto Prefectural Road 142 and turn right at the bus stop Yokomine Trail. Proceeding towards the mountain is the front.
⇒ Google map