Temple 45
【Pilgrim's Song】
The prayer of the great priest in the cave
There is paradise in the stone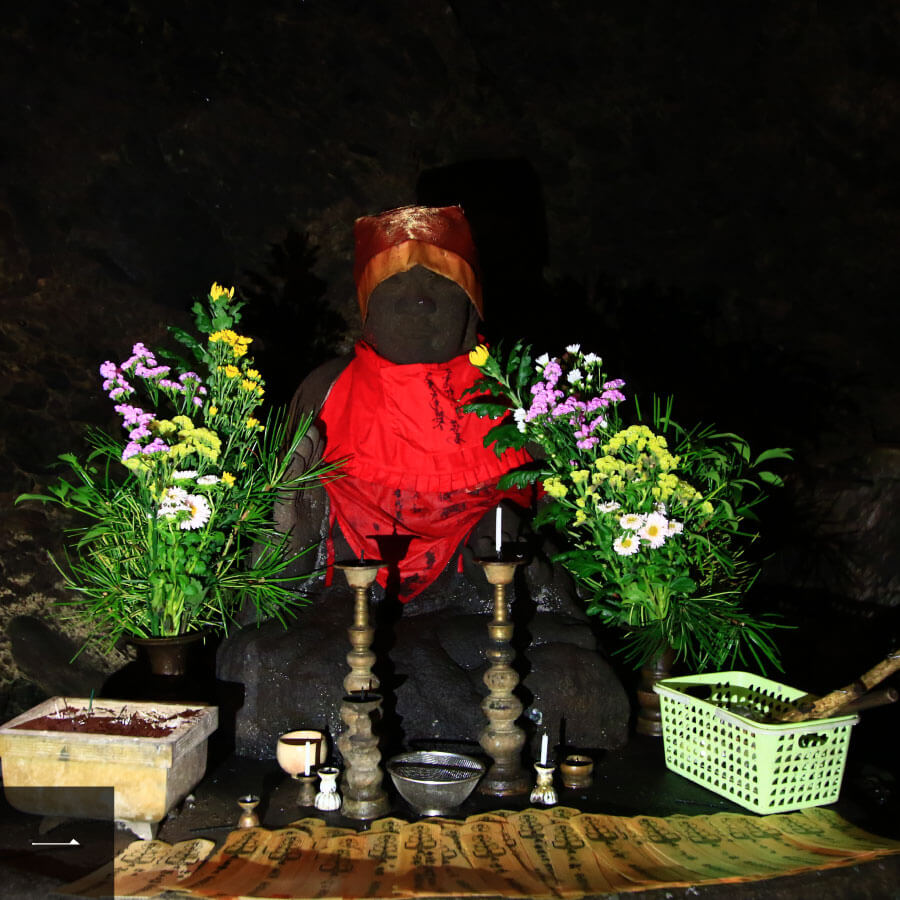 Under the stone steps toward the main hall.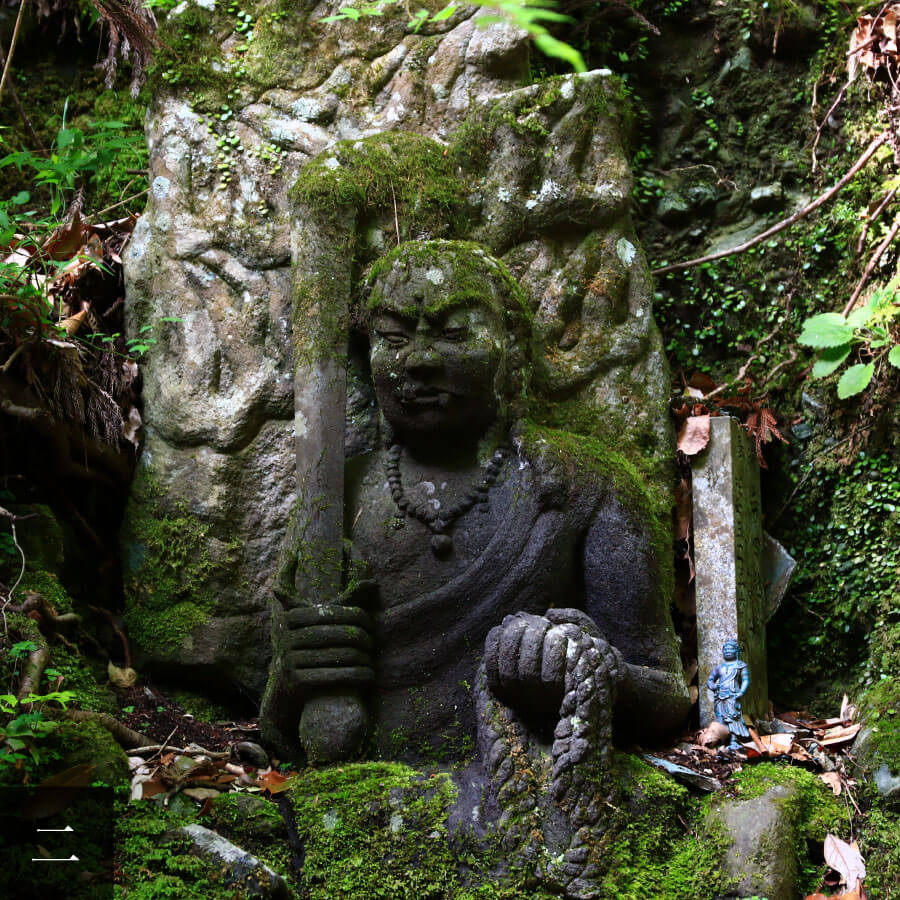 Turn corner under the Nokyocho, behind the hall of Akasagarbha.
The history and origin of Iwayaji
700m above sea level. It is a typical mountain sacred place where temple sits so that the ridge peaks towards the heavens and is embedded in the middle of a huge rock. The grounds of the temple and where the temple is located seem to have been used by trainees for a long time, and various traditions remain.
Kobo Daishi visited this sacred place in the sixth year of the Kōnin era. At that time, a woman from Tosa had already lived in the rock cave, fulfilled the Hokkesanmai (coming to a state of samadhi—intense concentration through meditation in the Lotus Sutra), and acquired the magical power of flying freely in the air. However, the hermit woman depended heavily on the master's training and offered the whole mountain to be the temple itself. The Daishi carved wooden and stone statues of Fudou Myou, the wooden statue was enshrined in the main hall as the main statue, and the stone statue was enshrined in a rock cave as the secret Buddha of the Okunoin, and the entire mountain was subjected to be the Honzon as the main statue of the Fudou Myou.
It is recorded that Ippen Shounin, a priest (1239-89) participated and practiced in this burial mound in the middle of the Kamakura period and is also described as "Ippen Kiyoe". By the end of the 13th century, statues of Fudou Myou, the Goma ritual hearth, Sennin (hermit) hall, 49 caverns, and 33 sacred caverns remained. It was thought to have been the foremost temple of the 44th Daiho-ji Temple for some time, determined in 1907 by the priest of the first generation Shinzan. However, in 1898, the entire mountain was burned down along with the Nio-mon Gate and the Kokuzo-do, as well as various historical materials. The Daishido, one size larger than the main hall, was rebuilt in 1926, and then reconstructed in 1933, the Sanmon in 1992, and the bell tower in 1927. It was erected in 1953, respectively. The Daishi-do is a nationally designated important cultural property, and the temple area is a national scenic spot and a prefectural natural park.
The highlights of Iwayaji
Anzen Zenjo, Michido Fudo, Owari Zenjo (following the mountain path behind the Okunoin and Daishido), Suzuno Otoyamakawa (a song that has the sensation of pilgrimage. Birds, Merciful Birds, Compassionate Birds, Drum Birds, Suzu Birds, Flute Birds, Drum Birds.) Plants discovered for the first time (including iyokujaku, iwayashida, iwayasuge etc.).
Temple 45 Fudasho: Kaiganzan Iwayaji
Denomination

Shingon Buddhist Toyoyama School

Honzon

Fudo Myoo

Pioneer

Kobo Daishi

Founding

Kōnin era 6th year (815)

Mantra

Nōmaku sanmanda bazaradan senda makaroshyada sowataya untarata kanman
Access
Location

Kumakogen-cho Nanatori 1468, Kamiukena-gun, Ehime 791-1511

Tel

Parking

Available (charged)

Shukubo


(TempleLodging)

None

Website
From Matsuyama Interchange, take National Route 33 towards Kuman. Turn left in front of Kuman Junior High School, run along prefectural road 12, and it is on the right hand side, about 3km past Kokuya-shuku Koiwayaso.
⇒ Google map