Temple 33
【Pilgrim's Song】
The road of travel is now Kofukuji
The pleasurable month of Akiake (dawn)
Despite his eye illness close to blindness, Kazuhisa Taigen was saved on his seventh pilgrimage traveling bare foot at 96 years old.
The Emperor received a consultation on how to end the war from Prime Minister Suzuki, who was said to be a master monk of the Showa era and was involved in the end of the war, discussed whether Japan should lose or win. His Majesty's words from the letter addressed to Prime Minister Suzuki, "Bear the unbearable and tolerate the intolerable" are famous. Image 1.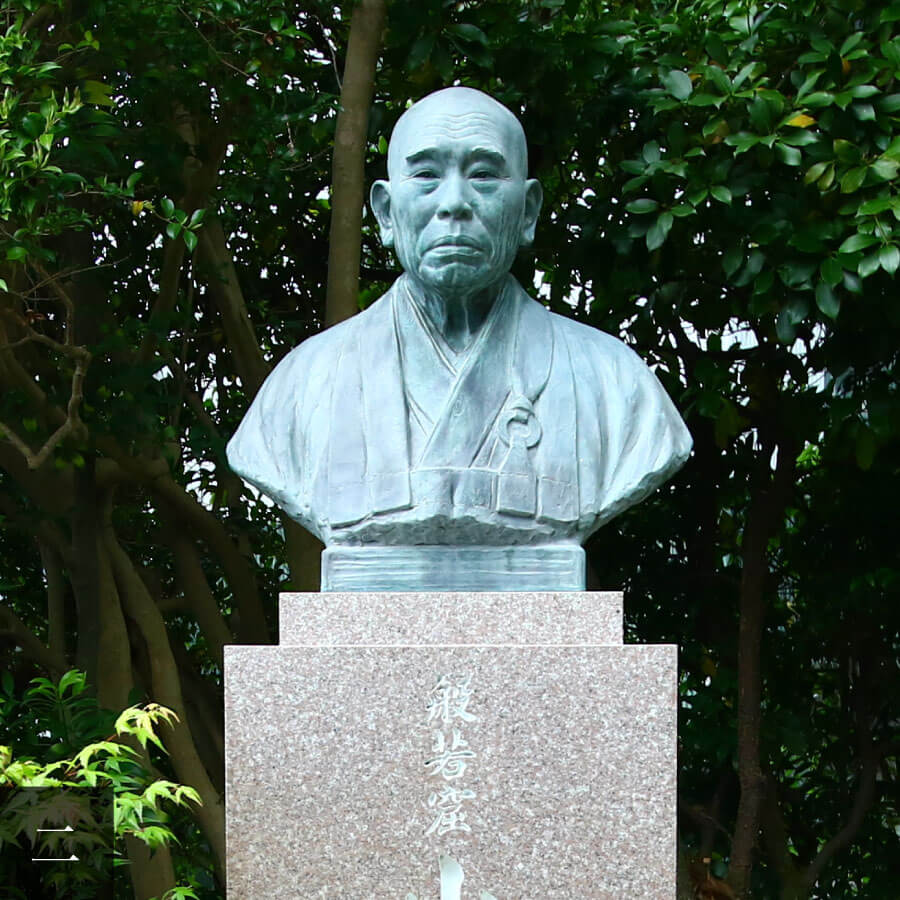 A 17th-century memorial tower for Taigen Yamamoto, who rebuilt the temple that was destroyed as a result of the abolition of Buddhism. He is also the teacher of the next 18th generation, Genpou Oshou. * Image 2
The history and origin of Sekkeiji
Katsurahama in Tosa Bay is known for its beautiful white sand. It is also famous for the bronze statue of Ryoma Sakamoto, a lord at the end of the Edo period. Sekkeiji is about 4 km west from there. First of all, there are three characteristics of Sekkeiji.
The first is the Rinzai school of Zen Buddhism, which has only two temples among the 88 sites in Shikoku. It was founded by Kobo Daishi in the Kōnin era year 6 and was called Shingon Buddhism. It was called "Kōfukuji Temple". Later, the name of the temple was changed to "Keiunji", but the temple that had been destroyed was revived by Tosa lord and former chief Chosokabe Motochigo during the Sengoku period. He was invited to be the first priest as the founder of Rinzai school of Zen Buddhism, to become the founder. He is the father of the resurgence. The father of the afterlife. The fourth son succeeded to establish the temple as their ancestral temple (Bodaiji), and changed the name of the temple to "Seikeiji Temple" from the name of his former parent, and still remains today.
The second is the famous Buddhist priest of the Kamakura period, Unkei and his eldest son, Tankei (the great sculptor), stayed at this temple. Unkei created the Yakushi Nyorai statue and the Sunlight of the Buddha triad, the illuminating Buddha. In addition, Tankei made the statues of Bishamonten and Kichijoten (the wife/sister of Bishamonten). It is said that he engraved a cute zenjishi doji statue in a slightly bowing pose and enshrined it. It was also for this reason, it was named Keiunji, discipleship, and 12 gods of the sea, of which there are 16 statues, are all designated as national important cultural properties.
The third is said to be the "Dojo of Nangaku", and the early Edo priest, Kazuhisa Tenji, was active as the ancestor of the "Nangakuhanoso" School, and has produced many excellent Confucian scholars such as Nakano Nakakaneyama.
Gempō Yamamoto, who arrived at Sekikeiji Temple and completed the pilgrimages 17 times around Shikoku, was also a Zen abbot in Ryūtaku-ji and Shoin-ji.
The highlights of Sekkeiji
Tai Xuan Tower, Xuanfeng Tower, Tsukiho Kazuhitoki, Nobuyoshi's Tomb (the eldest son of Chosogabe's former parent. Following the Kyushu defeat of Toyotomi Hideyoshi, he died with 700 vassals killed by Bungo.) 16 other sculptures and other important cultural properties
Annual events at Sekkeiji
Setsubun amulet / Hundred years

Date: February 3

Flower Festival

Date: April 8 of the lunar calendar

Bon / Sotoba

Date: July 1st Sunday

Demon

Date: October 2nd Sunday or 3rd Sunday

Nightlight Bell / Soba Entertainment

Date: December 31

Yasuko Anjizo Festival

Date: July 3rd Sunday
Temple 33 Fudasho: Koufukusan Koufukuin Sekkeiji
Denomination

Rinzai Muneshinji School

Honzon

Yakushi Nyorai

Pioneer

Kobo Daishi

Founding

Kōnin era 6th year (815)

Mantra

On korokoro sendari matōgi sowaka
Access
Location

857-3 Nagahama, Kochi, 781-0270

Tel

Parking

0 for normal, 5 for microbuses, 3 for large buses (6am-6pm, Shinpai "adjacent Fukujinja land")

Shukubo


(TempleLodging)

Tonight Hall: Yes (no nightclothes) Must be put in by 17:00

Website

None
From Kochi Interchange, head toward Harimaya Bridge. From Prefectural Road 34, turn right at the intersection of Kochi-minami Post Office and park for 100m.
Or go up to the Seto Bypass and go down to the left of Yorakuji Temple and park on the left 20m.
Get off at Tosaden Traffic Nagahama.
⇒ Google map