Temple 59
【Pilgrim's Song】
Kokubunji temple built for protection
Finally becoming the healer
Shake Hands with Master Daishi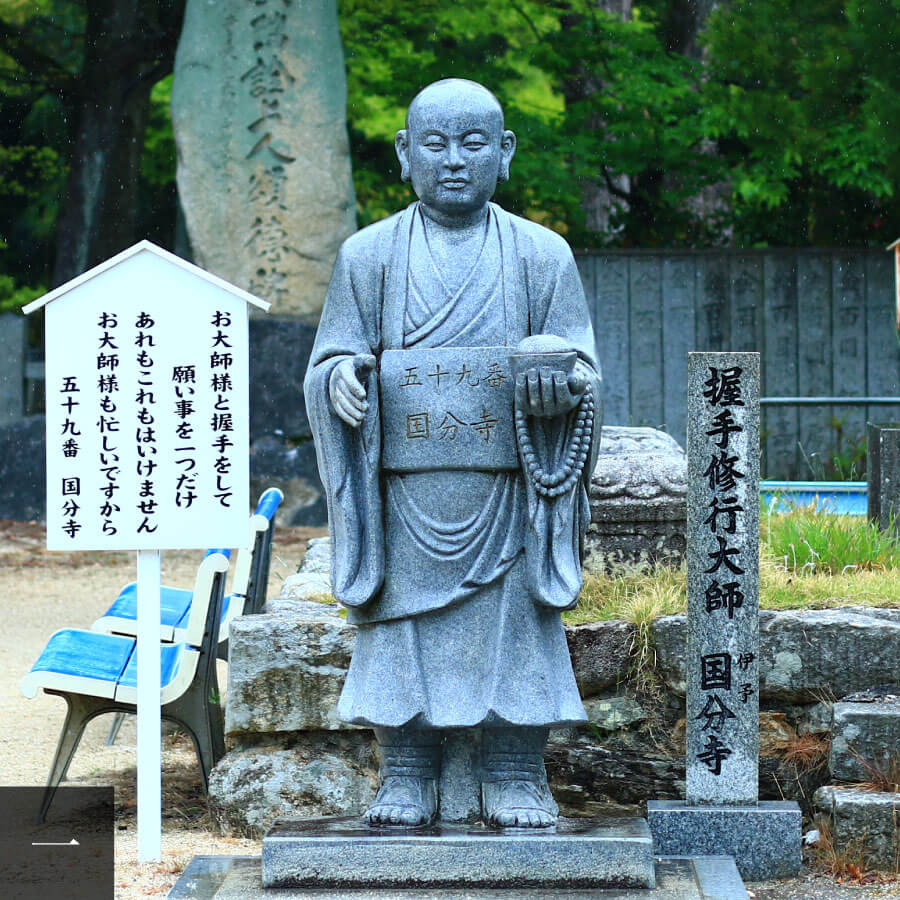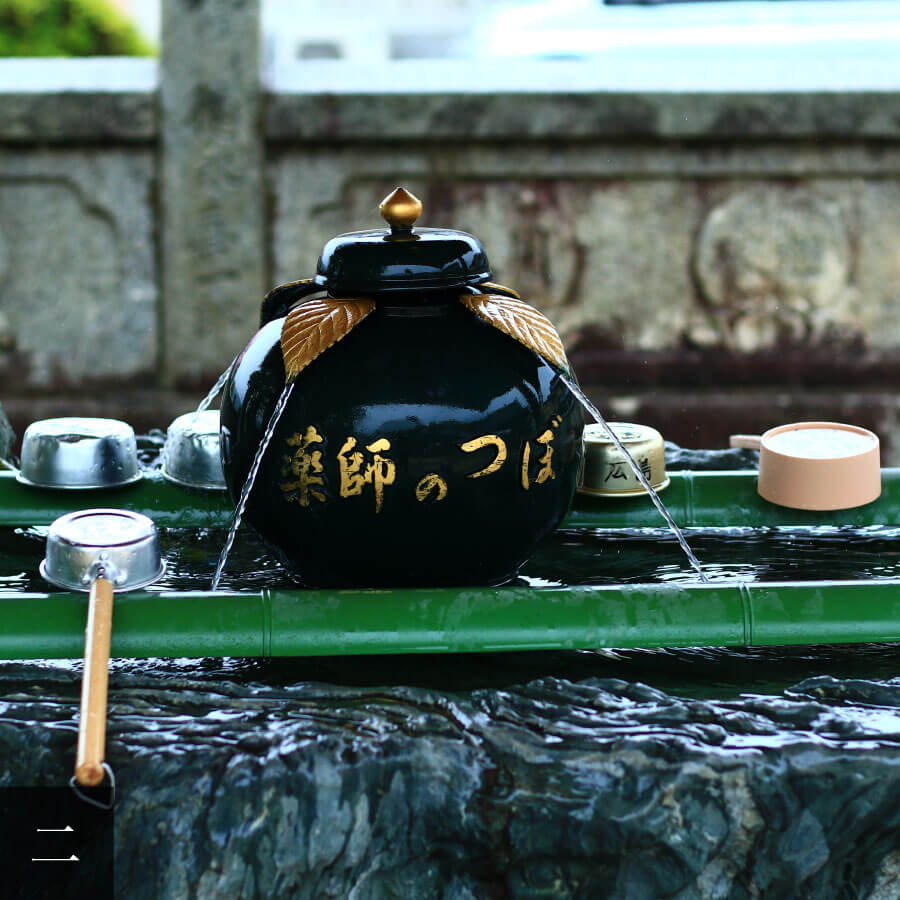 History and origin of Kokubunji
Iyo Kokubunji. This is the place where Iyo Culture originated, where the Iyo government was located. The former Kokubunji was about 150m east of the current temple. There are 13 huge cornerstones in the ruins that are considered to be the eastern tower ruins, and it is regarded as a national historic site. The height of the seven-storied pagoda, estimated from the layout of the corner stones, was about 60m, and the temple view with the magnificent seven structure temple is reminiscent of the old days of the Tenpyō era, which reigned in Iyo's Buddhist world, leaving behind its remnants.
It is said that Kokubunji was founded in the 13th year of the Tenpyō era, by the imperial entreaty of Emperor Shoumu (reigned 724 to 749). When he was the third priest, Kobo Daishi stayed for a long time to devote himself to the image of the "Five Great Wisdom Kings", and his master's disciple Prince Shinnyo (?-862) also stayed for two years. A part of the Lotus Sutra was copied and stored here.
Later Iyo Kokubunji was hit by a tragic disaster. First of all, in the second year of the Tenpyō era, in 939, Fujiwara Sumitomo's Rebellion turned the temple to ashes. Next, burnt down again due to the fire of the Genpei Battle in the first year of the Genryaku era,1184. The third time it was burned by the fire of Sanuki and Noriyuki Hosokawa in the 3rd year of the Jōji era (1364). For the fourth time, Chosokabe Motochika's "Tensho War" destroyed the temple again. The temple was devastated by a series of terrible disasters In the 2nd year of the Genroku era (1689), the writer Sakamoto, in his book "Shikoku Jouki", writes "Only the small hall yet stands lonely". Full-scale reconstruction was from the late Edo period.
Fortunately, there are many cultural artifacts such as "Kokubunji Scrolls" and "Great Perfection of Wisdom Sutra" in addition to ancient tiles.
The highlights of Kokubunji
Hondo, Honson, Abbot's quarters, Chinese camellia (In early April, a flower similar to a peony 17cm in diameter is delightful to see.)
Temple 59 Fudasho: Konkozan Saishoin Kokubunji
Denomination

Shingon sect

Honzon

Yakushi Nyorai

Pioneer

Gyoki

Founding

13th year of the Tenpyō era, 741

Mantra

On korokoro sendari matōgi sowaka
Access
Location

Kokubu 4-1-33, Imabari, Ehime 799-1533

Tel

Parking

Yes

Shukubo


(TempleLodging)

None

Website

None
From Imabari Interchange, take National Route 196 for Toyo City. Turn left at Takaichi intersection and go straight. Turn right on Prefectural Road 156 and after about 1km you will find it on your left.
⇒ Google map