Temple 7
【Pilgrim's Song】
If we leave human suffering early,
We arrive to the nine stages Amitabha's Pure Land and the ten pleasures within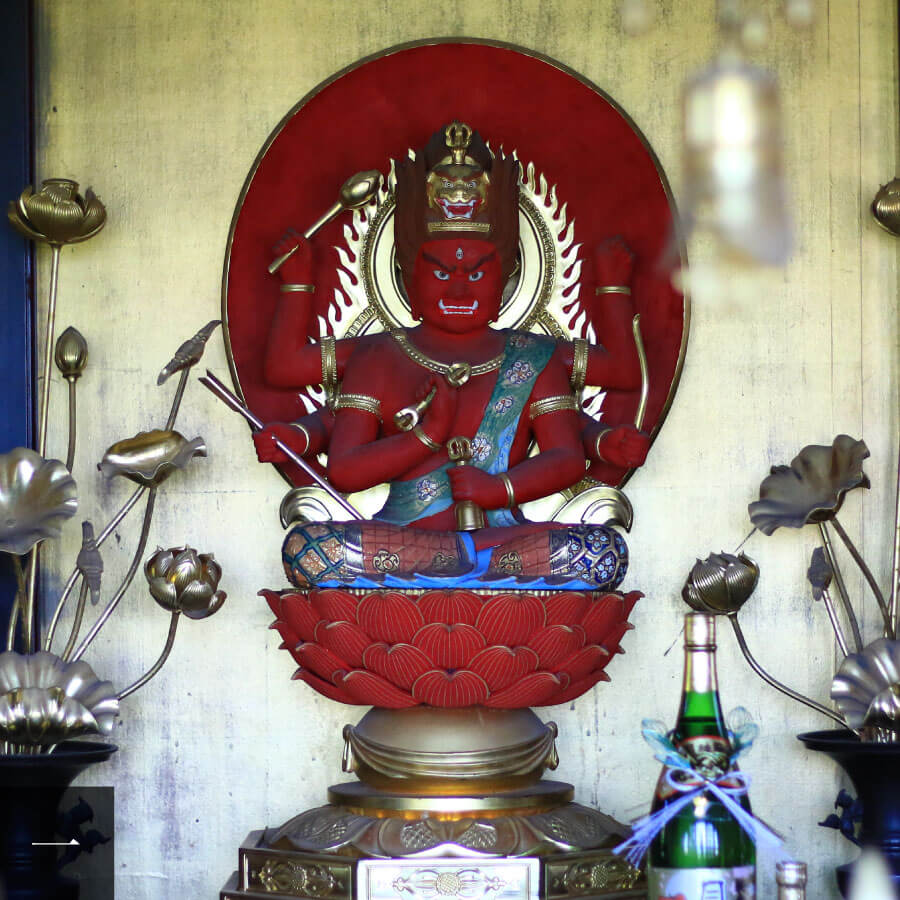 Here is the Buddha who has the power to change the excesses of the heart (lust and desire) into enlightenment and and lead to Bodhi (the place of enlightenment). There are four benefits in surrendering to this way: exorcism of bad spirits, prevention from disaster, increased prospects for marriage, and increased health. * Image 1
Medical Treatment for Eyes and Relief for the Aged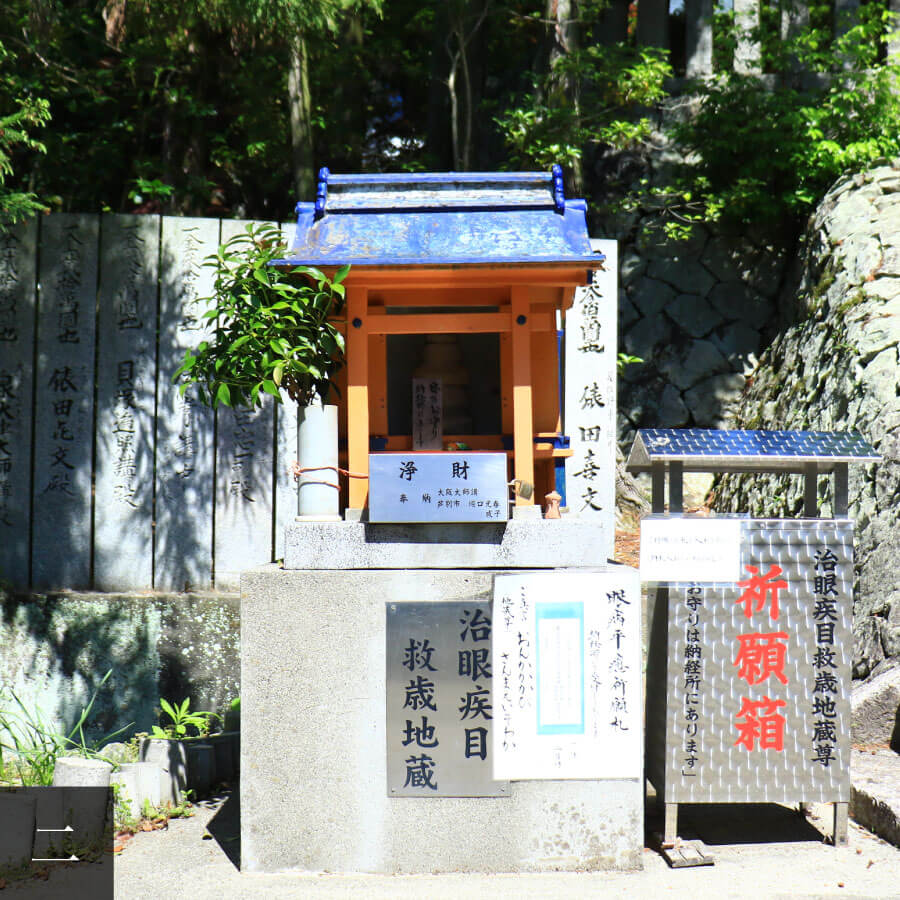 Next to Daishido stairs. The Jizo for eye-healing can be found since ancient times.
The history and origin of Jurakuji Temple
The temple is presumed to be in Dogahara, Jurakuji Valley, about 3 km north of the current location. It is reported that when Kobo Daishi visited and stayed in this area during the same year, he felt Amida Nyorai and carved a statue of Nyorai. At that time, Daishi is said to have given the temple the name of "Kōmeizan Jurakuji" for 10 hardships and also for shining pleasures in the unavoidable hardships of life, old age, illness, and death.
For some time after its founding, it boasted a vast seven-structured temple compound from the north of Awa. However, all the pagodas were destroyed in fire due to the attacks of Chosokabe Motochika in 1528. Fortunately, the priest said that the honzon of the time escaped the disaster. It was moved to its current location in 1635 and was rebuilt.
In 1994, a fine wooden main hall was erected. The "Eye Ailment Healing Jizo" was placed in front of the main hall is said to have been providing cures and treating people with eye disease and blindness since ancient times. Also, at the middle gate where Buddhist illumination can be found, Aizen Myou, who has governs both fortunate and unfortunate love, is enshrined, and there are many people visiting with supplications.
The highlights of Jurakuji
Sanmon / Mizuko Jizo (in front of Sanmon) / Medical Treatment for Eyes and Relief for the Aged / Aizen Myoo
Temple 7 Fudasho Koumyouzan Rengein Jyurakuji
Denomination

Koyasan Shingon sect (stand-alone)

Honzon

Nyorai (by Kobo Daishi)

Pioneer

Kobo Daishi

Founding

Daido (806-810)

Mantra

On amirita teisei kara un
Access
Location

58 Tonoshima, Takao, Hōjō-machi, Awa City, Tokushima Prefecture 771-1509

Tel

Parking

20 ordinary cars, 5 large cars from 7:00 am to 5:00 pm

Shukubo


(TempleLodging)

Yes (70 people, private room)

Website
From the Tosei Interchange, take the road along the highway towards Itano and you will see it on your lef
⇒ Google map