Temple 70
【Pilgrim's Song】
For one who plants flowers in Motoyama
Spring comes eagerly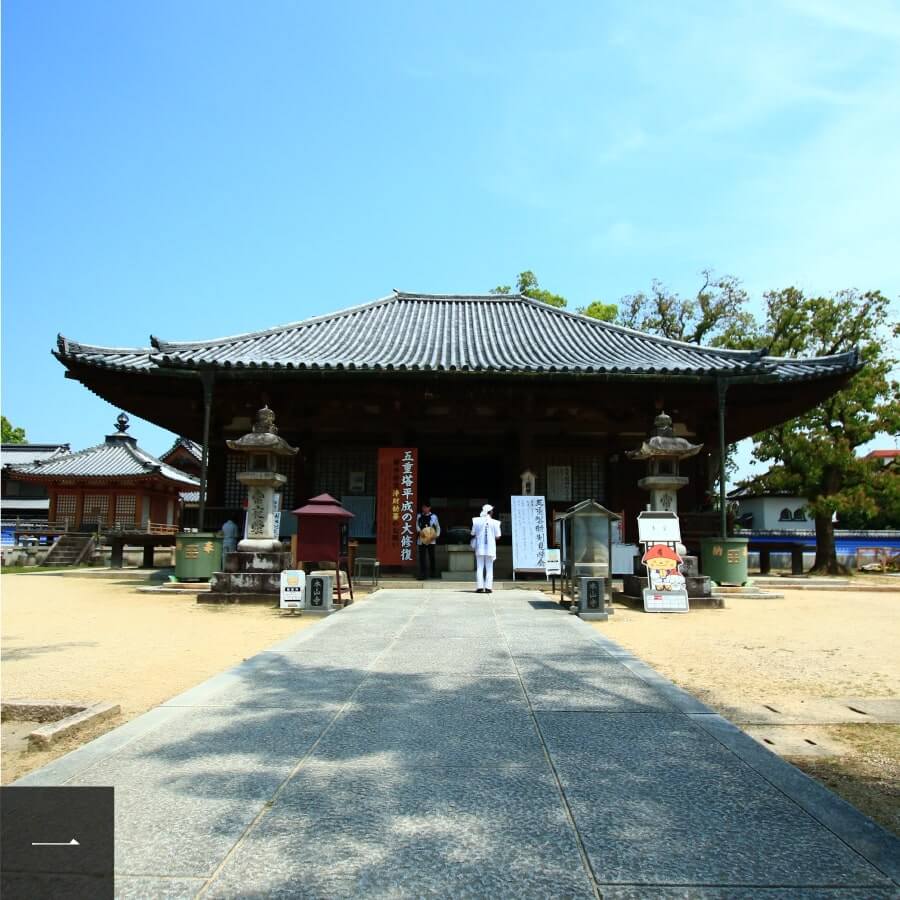 Designed as a national treasure, this is a single-roofed building, with a full tiled roof. A Nara-style structure built in 1300. * Image 1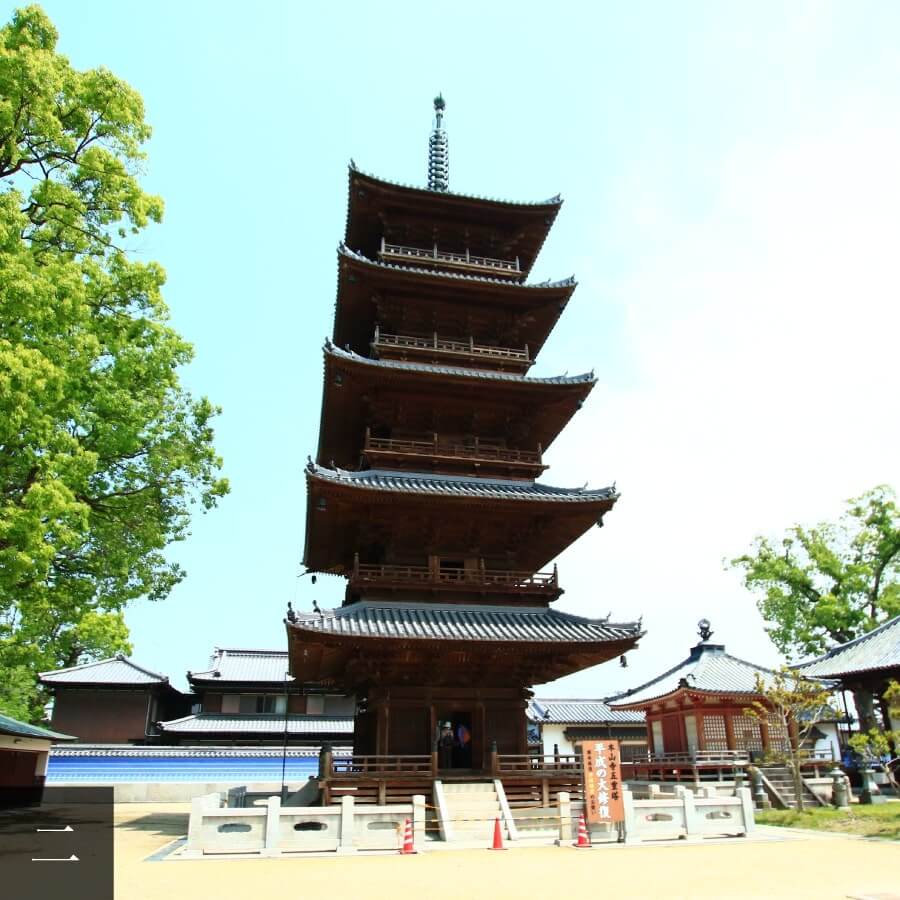 In 1894, the 43rd year of the Meiji era, the resident priest Yoritomi Mijukki rebuilt the pagoda. It can be seen from a distance, and is a symbol of Motoyamaji. * Image 2
The history and origin of Motoyamaji
In all the Shikoku Sacred Sites, only four other places have five-storied pagodas: Chikurinji, Shidoji, Zentsuji and Honzanji. It was erected in 3rd year of the Tenryaku era(950), but was severely damaged and rebuilt in 43rd year of the Meiji era (1910). In addition, the principle deity is the Batō (horse-headed) Kannon Bodhisattva, the only one in Shikoku. A statue of a horse stands beside the main hall where the temple is enshrined.
In the second year of the Daidō era, (807), Kobo Daishi established the Seventieth Fudasho at the behest of Emperor Heijō. At that time, it was called "Chofukuji", and legend of the main hall is that Daishi erected it a single night. The vast grounds of about 20,000 square meters includes the main hall which is a national treasure, the Niomon gate, the five-storied pagoda, the guardian hall, the Daishido, the Ten Kings hall, the red hall (the hall of Mahavairocana, the Great Sun Buddha), the memorial hall, the bell tower, and also the guest hall. It is all reminiscent of the time when the temple was prosperous.
When the Chosokabe army invaded the main hall during the Tensho War, a priest was put to the sword and blood flowed from the right hand of Amida Nyorai who was at the side of Buddha. It is said that the main hall escaped the fire because the troops who were shocked at this departed immediately. This Buddha is called the "Tachi uke no Mita", the "Sword Receiving Amitabha". After that, it changed its name to "Honzan Temple".
The highlights of Motoyamaji
Main Hall, Five-storied Pagoda, Nioumon (Japanese style gates with three styles: Japanese, Tang and Tengu). (A small company that retains the style of the late Muromachi period. It has a simple appearance with a thatched-roofed roof. It is a designated cultural asset of the prefecture.)
Annual events at Motoyamaji
Five-story pagoda special tour

Date: May consecutive holidays (May 3-6)

Cucumber incantations

The date and time: July day

Trout sink

Date: August 23, 19:00

Hidamari Market

Date: Last Sunday in September

Goma Prayer Meeting

Date: 28th of every month 9: 00 ~
Temple 70 Fudasho: Shippozan Jihoin Motoyamaji
Denomination

Koyasan Shingon sect

Honzon

Batō (horse-headed) Kannon Bodhisattva

Pioneer

Kobo Daishi

Founding

2 year of Daidō era (807)

Mantra

On amiritō dohanba unhatta sowaka
Access
Location

Toyonakacho Motoyama Ko 1445, Mitoyo, Kagawa 769-1506

Tel

Parking

Yes

Shukubo


(TempleLodging)

None

Website

None
From Sanuki Toyonaka Interchange to Route 11 toward Kannonji city. Turn right at the intersection of Motoyama Bridge Kitazume and go straight. You can see the five-storied pagoda at Motoyamaji and there is a parking lot on the left.
  ⇒ Google map