Temple 77
【Pilgrim's Song】
Pray to enter Buddha's Richness
And see the enlightened moon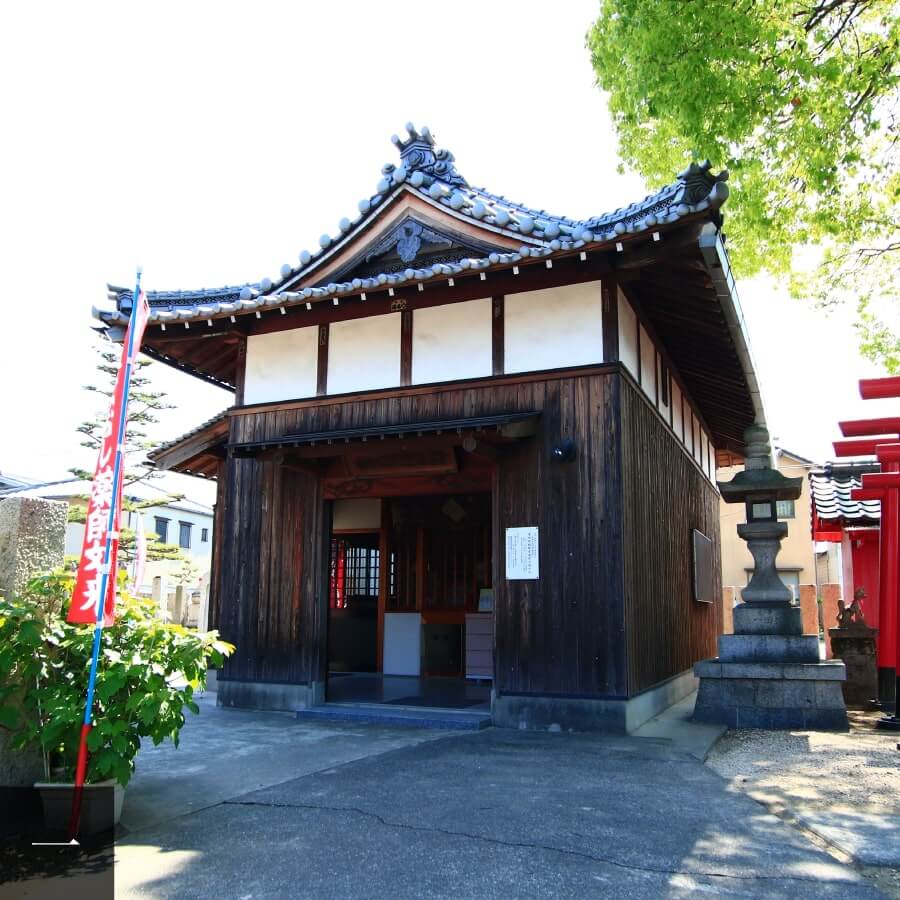 The left back of the main hall. It is believed that there is a benefit for eye disease at the grave of the late Edo period doctor, Kyogoku Sakuma. * Image 1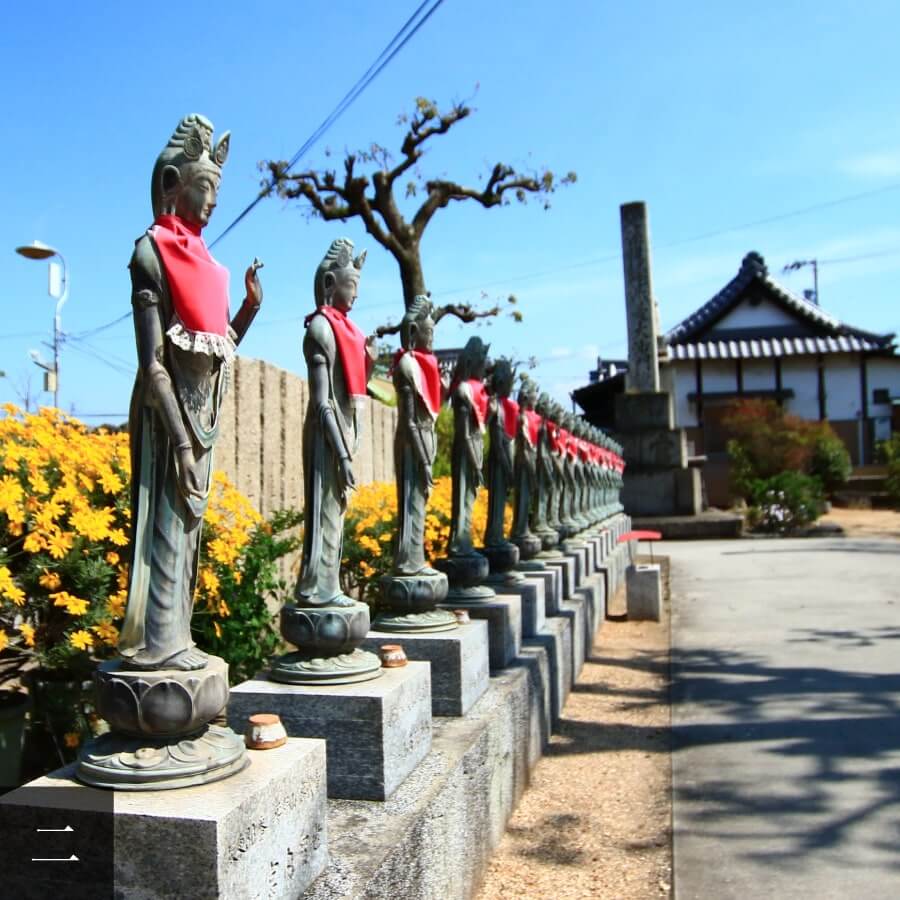 In addition to Hundred Kannons from the West, Chichibu and Bando, there are 255 statues such as the main shrines in various places that are famous as sacred sites for Kannon. There are Kannon statues for unborn children and travel safety. * Image 2
The history and origin of Doryuji
As you pass through Niomon, bronze Kannon will greet you side by side. This area around the time of its founding was a vast mulberry field, which seemed to have been a production area for silk. According to Engi, in the fifth year of the Wadō era, it is said that the local lord, Wake Michitaka, cut a large mulberry tree, carved a small statue of Yakushi, and founded the beginning of the temple. Wake Michitaka saw a large mulberry tree in the surroundings that was about 5 meters tall, shining a mysterious light every night. When he wondered at this light and shot an arrow, a woman screamed and the family nanny fell down and died. Deeply grieved, Michitaka carved a Buddha statue from the mulberry tree, and placed it in the temple.
In the second year of the Daidō era, (807), Michitaka's son, Asayu, begged Kobo Daishi, who returned home from the Tang Dynasty, to carve a 90-centimeter statue of Nakurai Yakushi himself. The statue was made the principle deity of the temple.
After being commanded by the Daishi, Asayu became the second priest, and used his ancestral fortune to build the temple, erected the seven structure temple, and named the temple "Doryuji" from the name of his father, the founder. The third is Kobo Daishi's younger brother, Shinga Sōjō (Hōkō Daishi), who succeeded in the building of the 23 monasteries, and in the fourth, Enchin (Chishiro Daishi) carved a statue of the "Godai Myou Ou" (The Five Great Wisdom Kings), the statue of Aryavalokitesvara Bodhisattva, and built the Goma-do The next 5th holy treasure in the era of (Rigen Daishi), it has become the "Hōso Kiganjo". The priests flourished one after another, but the temple buildings collapsed due to the Great Earthquake in the Jōgen era (976-78), the soldiers burned the grounds in third year of the Kōhei era (1060), and the "Tenshō Fires", and yet the light of Buddha prevails.
The highlights of Dobruji
Sentokuin Hall of Fame, Kannon Statue, and Tera Treasure
Doryuji's annual events
Regular goma

Date: January, May, September 28th, 13: 00-
Venue: Five Great Halls
Temple 77 Fudasho: Sotazan Myooin Doryuji
Denomination

Shingon Daigo sect

Honzon

Yakushi Nyorai

Pioneer

Takashi Wakedo

Founding

Wadō era 5th year (712)

Mantra

On korokoro sendari matōgi sowaka
Access
Location

Tadotsu-cho Kita-gamo 1-3-30, Nakatado-gun, Kagawa 764-0022

Tel

Parking

Available (free)

Shukubo


(TempleLodging)

None

Website

None
Enter the Tadotsu town area from Zentsuji interchange. Turn right at the T-junction with Prefectural Road 21 and go about 300m beyond the JR viaduct to Dobruji. Niomon is on the other side of the road.
  ⇒ Google map