Temple 23
【Pilgrim's Song】
Yakuoji Temple for everyone's year of sickness
Do not give the medicine of lapis lazuli stones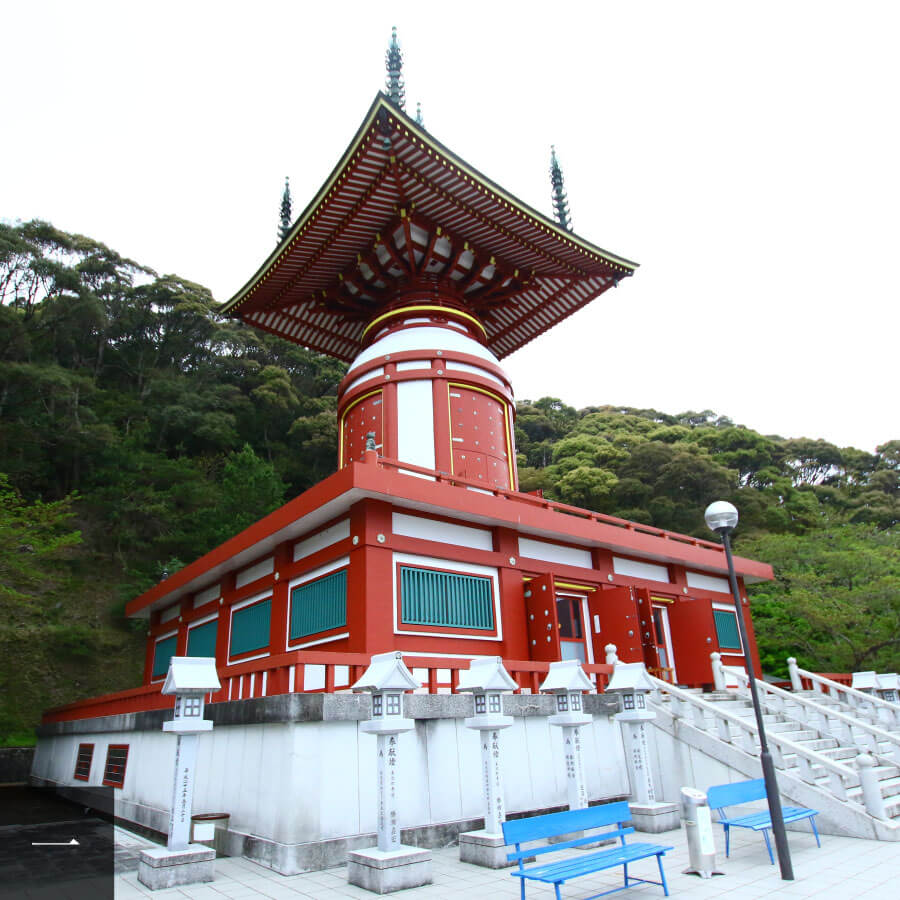 A tower 29 meters high. A single tower with a square at the top and a cylindrical shape at the bottom. Based on the teachings of Yugikyo, which explains the harmony between heaven and earth, five pillars stand on the roof. * Image 1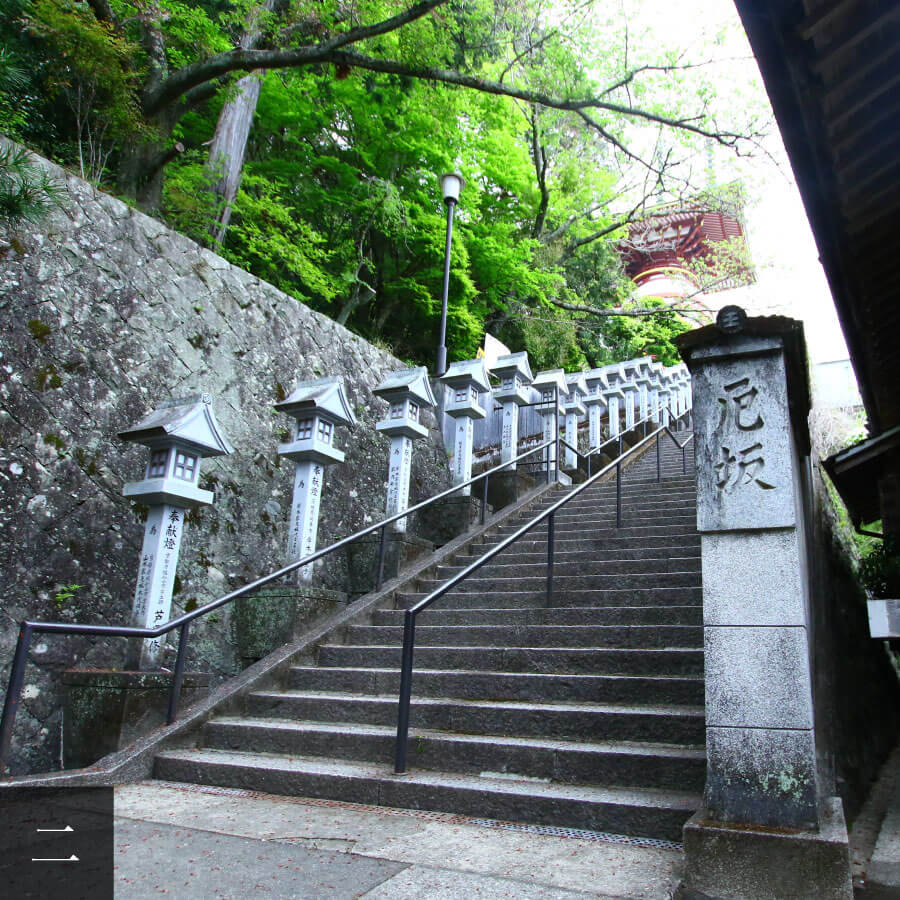 It is said that if you visit while offering a tithe, your hardships that come down will fall. * Image 2
History and origin of Yakuoji
The last sacred place in Awa, known as the "Hosshin no Dojo" (Dojo of Awakening). It is also an exceptional main mountain of the Koyasan Shingon sect. It is famous throughout the country as an temple to exorcise bad karma, and the first stone steps to the main hall after crossing "Yaku Yokebashi" are 33 steps called "Onnazaka", followed by steep stone steps "Otokozaka" There are 42 steps, and the main hall to the "Kashiwa Tower" consists of 61 steps called the "60th Birthday Danger" for men and women. Underneath each stone step is a pebbles with the text of "Yakushi Hongan" (Vow of Yakushi Nyorai) written on it, and the worshipers can see the sight of placing money on every step. According to Engi, Gyoki founded the temple at the request of Emperor Shoumu (reign 724-49). In 815, when Kobo Daishi was 42 years old, he prayed for the good luck for himself and all people, and carved the statue of the medicine Buddha, Nyorai, and made it the main deity, making it a basic prayer temple for good luck. The Daishi performed the excellence of the exorcism of bad luck to the third generations of, Emperor Heijo, Emperor Tsuji, and Emperor Junwa.
In 1188, the buildings were burned down, but at this time, the main deity in the Honzon flew away with light and escaped to the Okuin Temple, Tamakushiyama. Later, when Emperor Gojo rebuilt the temple and opened the new Yakushi Nyorai statue, it was reported that it had returned to the Honzon in the light and entered backwards. Since then, it has been a secret Buddha as a "rear-facing medicine Buddha". In the grounds, there is a monument that appeared in Eiji Yoshikawa's "Naruto Secret" and Shintaro Shintaro's "Kukai's Landscape".
The highlights of Yakuoji
Yugito, Nakizaka's monks, Lung Daishi (It is on the left side of the main hall. It is said to be effective in various diseases such as lung disease.
Annual events at Yakuoji
New Year's First Prayer・・・January 1-3
etsubun Star・・・February 3
Announcing the opening ceremony ・・・February 11-12
Kankai・・・February 15
Shakuson Flower Festival・・・April 8
Masakage no Oki ・・・April 21
Summer party・・・Old calendar: May eve
Kobo Daishi Nativity Party・・・ June 15
Sanran Bon Festival ・・・August 13-16
Gourmet Devil Party・・・August 16
Summer party ・・・Old calendar: May eve
National Guard Festival ・・・October 15
New Year's Eve Festival・・・New Year's Eve
Honson Monthly Meeting・・・12th of every month
Temple 23 Fudasho: Iouzan Muryoujyuin Yakuouji
Denomination

Koyasan Shingon sect

Honzon

Evil exorcist Nyorai (Denkoho Daishi)

Pioneer

Gyoki

Founding

Jinki era 3rd year (726)

Mantra

On korokoro sendari matōgi sowaka
Access
Location

Okugawauchi 285-1, Minami-cho, Kaifu-gun, Tokushima 779-2305

Tel

Parking

Normal / 350 cars / Microbus, Large / 10 cars (7am-5pm, free)

Shukubo


(TempleLodging)

Yes (Reservation phone:0884-77-1138)

Website

Social media