Temple 47
【Pilgrim's Song】
People who sing and see the flowers at Yasakaji
At the edge of the three Buddhas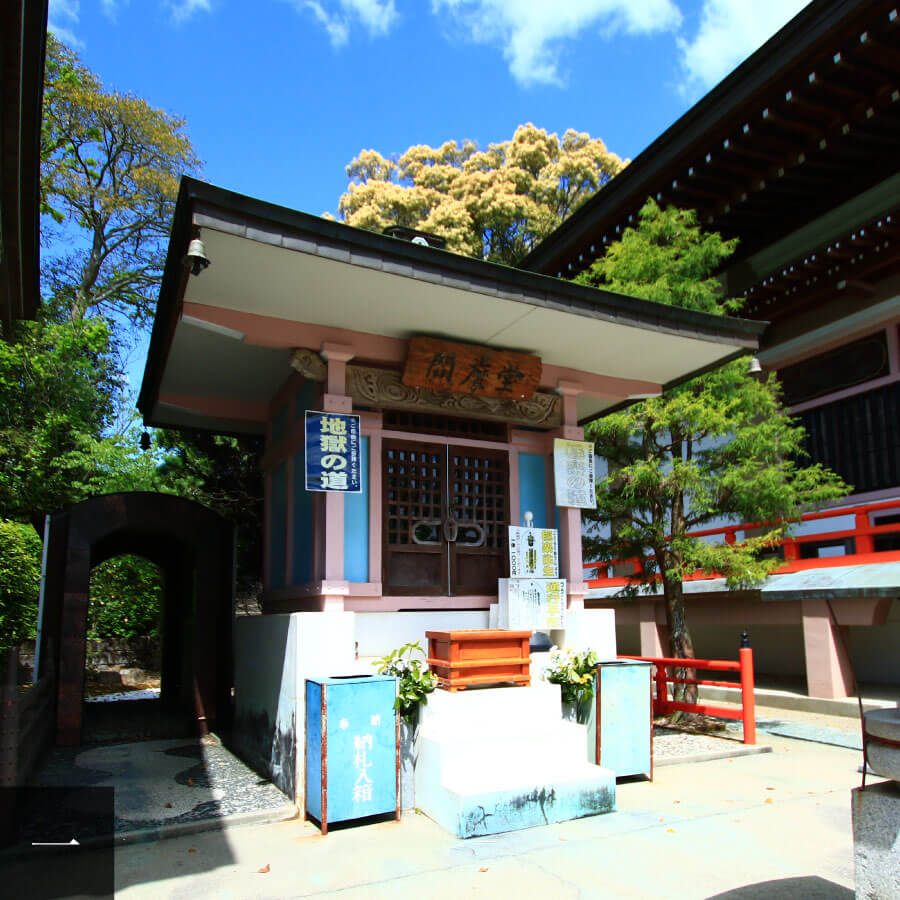 Between the main hall and Daishido. There are two ways: "the way of paradise" and "the way of hell". The beautiful paradise is drawn as such, and the hell is painted with devils, beasts, and evil spirits. * Image 1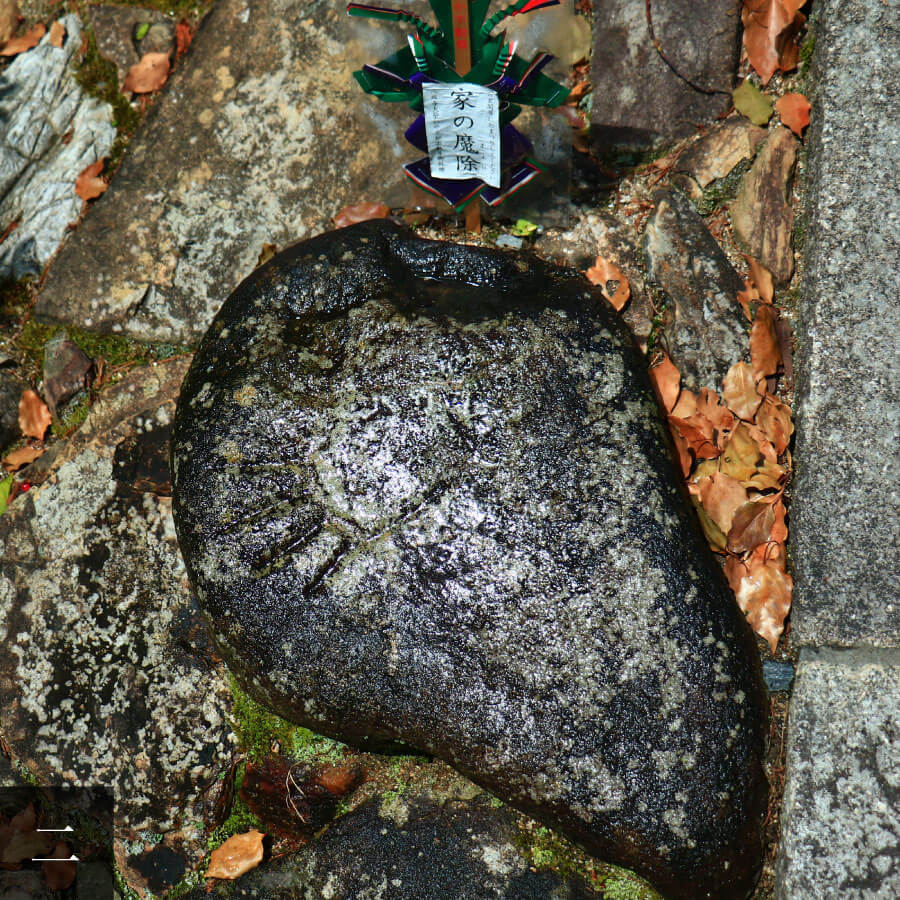 The 10th step from the bottom of the stone stairs to the main hall. It is said to be the hand of "Salvation that removes nine troubles", and a story that is effective for foot and eye diseases is given. * Image 2
History and origin of Yasakaji
Between Yasakaji, which is about 1 km north of Joruriji, there is a pilgrimage road "Shikoku no Michi" that follows the gentle curved roads of the countryside. It is closely related to the legend of Emon Saburo, the ancestor of the pilgrimage. It is an old temple with a history of 1,300 years, since the founder Kokaku of Shugendo is said to have established it. The temple is located in the middle of the mountain, and in the first year of the Asuka era, Emperor Bunbu (reign 697-707) petitioned for the construction of the pagoda. At this time, it was named as a temple after the 8 slopes, and it is also derived from the increasingly prosperous "Iyasaka" (meaning "prosperity") "eight slopes".
Kobo Daishi trained at this temple a little over a hundred years later, in 815 in the 6th year of the Kōnin era (815), rebuilt the ruined temple, and designated it as a sacred place. The main statue of Amida Nyorai is said to be the work of Genshin Miyamoto Nobu (942-1017), who laid the logical foundation of Jodo religion. Later, from Kishu, the spirits of Kumano Gongen (manifestation of Buddha in the form of a Shinto "kami") and the twelve shrines of Gongen were worshiped and became the main dojo of Shugendo, also called "Kumano Yasakaji". At this time, there were 12 monks in the precincts, and Sue-ji Temple had 48 temples, and it was thriving enough to hold monks.
In the basement of the main hall, approximately 8,000 Amida figures dedicated from believers throughout the country are enshrined.
The highlights of Yasakaji
Enma-do
Between the main hall and Daishido. There are two ways: "the way of paradise" and "the way of hell". The beautiful paradise is drawn as such, and the hell is painted with devils, beasts, and evil spirits.
Helping Hand
The 10th step from the bottom of the stone stairs to the main hall. It is said to be the hand of "Salvation that removes nine troubles", and a story that is effective for foot and eye diseases is conveyed.
Houinto Tower
A temple treasure in the garden in front of the warehouse, a stone tower in the Kamakura period.
Fudo Sanson
On April 29th every year, students are gathered from all over the country to conduct training on the Somaka Daigo Mao fireworks.
Annual events at Yasakaji
Shiba Ryu Daigo Fireworks Sanmai Fire Training Course

Date: April 29 every year

Mausoleum

Date: July (twice) and October (2 days and 1 night) every year
* Recruitment of general participants every year
Temple 47 Fudasho: Kumanozan Myokenin Yasakaji
Denomination

Shingon sect

Honzon

Amida Nyorai (Denshin Shinto)

Pioneer

EN no Ozunu

Founding

The first year of Taiho (701)

Mantra

On amirita teisei kara un
Access
Location

Jorurimachi 773, Matsuyama, Ehime 791-1133

Tel

Parking

Available (free)

Shukubo


(TempleLodging)

None

Website

None
From the Matsuyama Interchange, take Route 33 towards Kochi / Tobecho, turn left at the intersection in front of Ehime Children's Castle, turn right at the next traffic light after passing the Otomoyama tunnel, and turn right at Yasakajimae bus stop in front of approximately 500 meters. ⇒ Google map
⇒ Google map