Temple 36
【Pilgrim's Song】
The little fountain of the green dragon.
A pledge of the protection of Buddhismく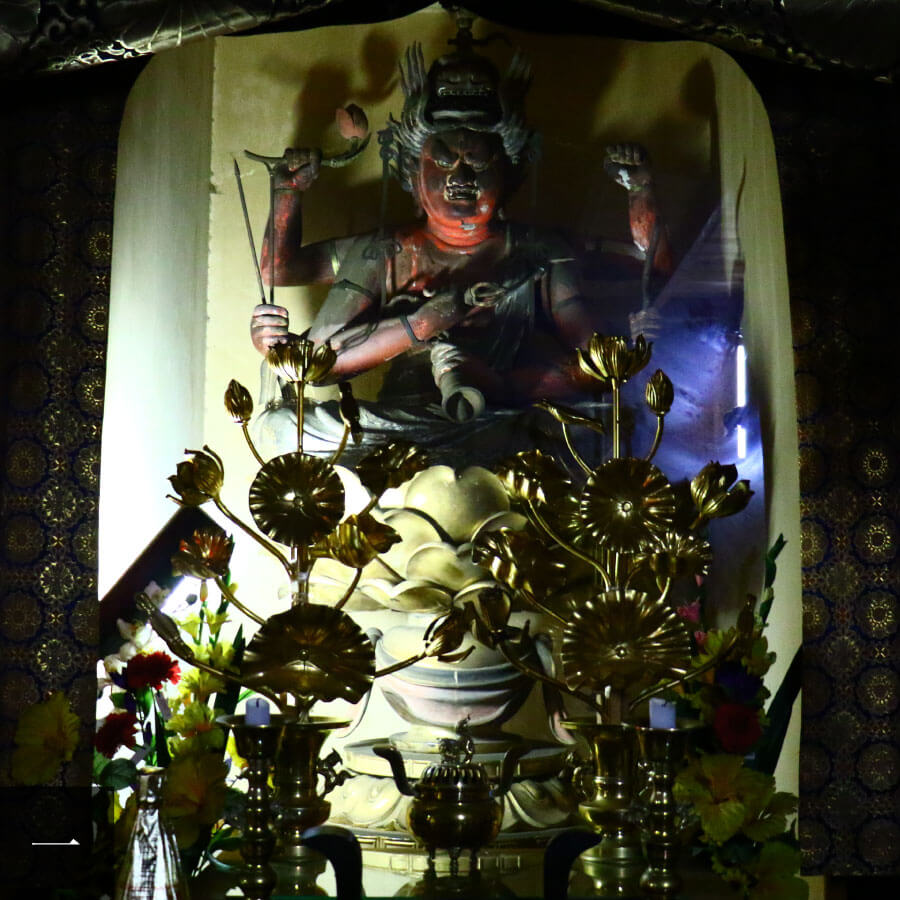 Wooden, placed in the main hall. National important cultural property. He is worshiped as one of a pair with Fudou Myou to save all from suffering. * Image 1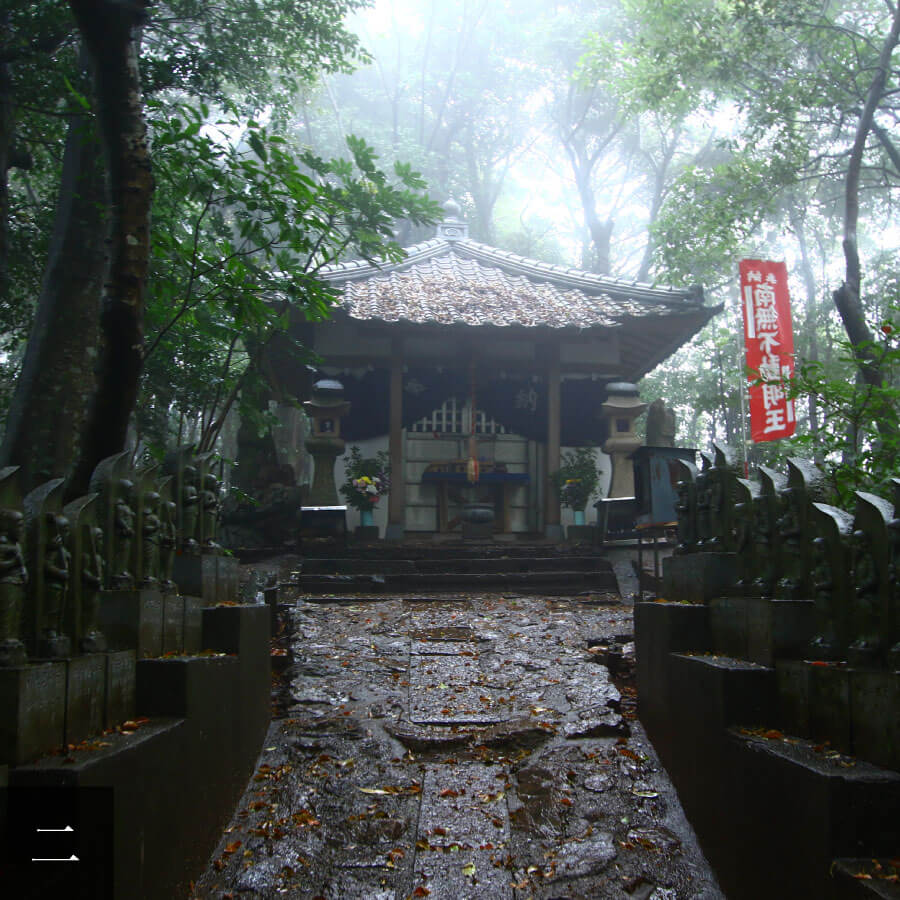 It is about 600m south from the grounds and is looks likely to fall into the Pacific Ocean at the tip of the Yokonami Peninsula. A stone-built statue of Fudo Myoo was enshrined and forbidden to women for many years. * Image 2
History and origin of Shoryuji
When you go on pilgrimage through Shoryuji, you cross "Usano Ohashi". Until the opening of the bridge in 1973, pilgrims crossed the bay entrance of Uranouchi Bay of about 400m by boat. Kobo Daishi also crossed this bay by boat when he built Shoryuji Temple. There were 8 people of that region left. It is reported that their descendants have been protecting this ferry, the "Dragon Pass", for generations until today.
Kobo Daishi went to the Tang Dynasty and studied Buddhism at Shoryuji Temple in Chang'an, and was given the secret of Shingon by Kazuhisa Eika and became the eighth holder of the tradition. In 806, the first year of the Daidō era, he returned home. According to Engi, Daishi prayed that he would be able to choose a victorious spot by throwing a vajra (tokko) toward the eastern sky in order to build a temple in Japan and grant him favor. The vajra (tokko) was wrapped in purple clouds and flew away high in the sky.
After returning home, when Daishi was traveling on pilgrimage in this area, he felt that the "tokko" was in an old pine on the mountain by the inner shrine, and at the behest of the Emperor Tatsumi (reigned 809-23) Daishi built a temple in this area in the 6th year of the Kōnin era, enshrined a stone Fudo Myo statue, and named the temple Shoryuji . The the mountain number was named "Tokko" from the vajra released from a certain foreign country.
Until the Meiji period, it was said to be Tosa 7 Dai-ji Temple, and it was a famous temple with Sueji Yotsuji Temple and Wakibo Rokubo. It is also said that the statue of the priest's immovable (waveless) Fudo Myoo was founded by the Daishi in order to calm down the storm when he entered the country, and is still deeply believed to be able to calm down tempests, provide voyage safety, grant fertility, and protect those on rough seas.
The highlights of Shoryuji
Aizen Myoza, Okunoin, Yokonami Prefectural Natural Park (Uranouchi Bay on the north side and magnificent Pacific Ocean view on the south side)
Temple 36 Fudasho: Tokkozan Ishanain Shoryuji
Denomination

Shingon Buddhist Toyoyama School

Honzon

Nakiri Fudo Myou (Wave Calming Fudo Myou)

Pioneer

Kobo Daishi

Founding

Kōnin era 6th year (815)

Mantra

Nōmaku sanmanda basaradan senda makaroshyada sowataya untarata kanman
Access
Location

Usamachi Ryu 163, Tosa, Kochi 781-1165

Tel

Parking

20 cars (free)

Shukubo


(TempleLodging)

None

Website

None
From Tosa Interchange, take Route 56 and Prefectural Road 39 to Usa-cho, Tosa City. Run along prefectural road 23 and prefectural road 47 along the sea and turn right at the bus stop.
⇒ Google map